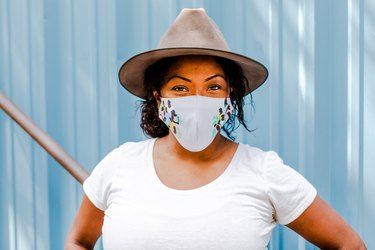 Black people have forever made extensive, meaningful contributions in the American food and farming industries. To start conversations about this topic while actively supporting Black Americans in the food industry, L.A.-based apron designer BlueCut has launched a special-edition apron and face mask collection called Planting Change.
This initiative was created in collaboration with biracial, Black artist Alexandra Bowman, an illustrator, muralist, and designer whose work focuses on authentic representation. This can be seen in her Planting Change illustration, which depicts Black individuals growing and harvesting crops for their community. From far away, the design is meant to look like a bouquet of flowers, and overall, Bowman wants this artwork to "reclaim the narrative of Black Americans' relationship to land, farming, and food," according to the brand's press release.
"We are witnessing an unprecedented level of disregard for Black lives and are especially aware of the absence of support and acknowledgement for Black farmers and chefs," BlueCut designers Chachi Prasad and Karam Kim state in the release. "As part of the hospitality industry, we felt the need to speak up and are doing so in the best way we know how, through a platform of art and design."
For every apron that is sold, BlueCut will be donating at least five aprons to BCAGlobal's network of Black-owned restaurants. As for the face masks, 100% of profits will be donated to Soul Fire Farm, an AfroIndigenous coalition focused on empowering BIPOC farmers and growers. Both the aprons and face masks are available in adult and kid's sizes.