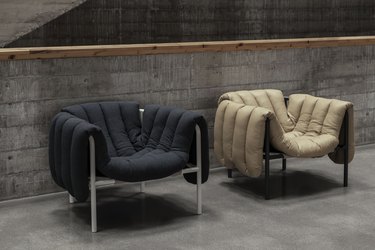 There's something about a big, fluffy cloud-like couch. So much so, in fact, that we've actually done an investigation into the phenomenon (spoiler alert: celebs, in particular, love it). So when a new comfy seating option hits the market, you bet we're going to scope it out.
The latest debut that hops aboard the plush furniture train is the Puffy Lounge Chair, a collaboration between furniture brand Hem and British artist Faye Toogood. Echoing the likes of Arne Norell's boxy, midcentury, low-slung chairs, the Puffy Lounge Chair has a rectilinear steel frame over which is draped a very plush duvet.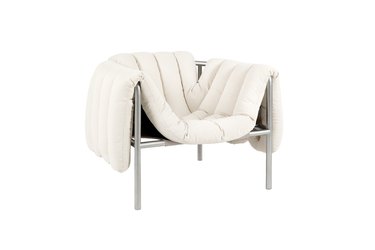 "The idea behind the Puffy Seating Collection is to emphasize the two almost contradictory ideas at play in the furniture," Toogood said in a statement. "First, stability and strength, highlighted by leaving the stainless-steel framework on display; and second, comfort and reassurance, in the form of the puffy upholstery. The resulting pieces have a dependable durability coupled with all the enveloping warmth of a familiar duvet."
The Puffy Lounge Chair has several color options both for the frame and the upholstery. It's available online through Hem, starting at $1,599.