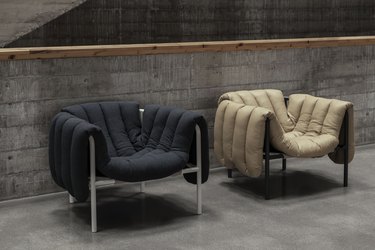 There's something about a big, fluffy cloud-like couch. So much so, in fact, that we've actually done an investigation into the phenomenon (spoiler alert: celebs, in particular, love it). So when a new comfy seating option hits the market, you bet we're going to scope it out.
The latest debut that hops aboard the plush furniture train is the Puffy Lounge Chair, a collaboration between furniture brand Hem and British artist Faye Toogood. Echoing the likes of Arne Norell's boxy, midcentury, low-slung chairs, the Puffy Lounge Chair has a rectilinear steel frame over which is draped a very plush duvet.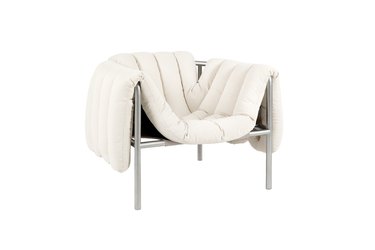 "The idea behind the Puffy Seating Collection is to emphasize the two almost contradictory ideas at play in the furniture," Toogood said in a statement. "First, stability and strength, highlighted by leaving the stainless-steel framework on display; and second, comfort and reassurance, in the form of the puffy upholstery. The resulting pieces have a dependable durability coupled with all the enveloping warmth of a familiar duvet."
The Puffy Lounge Chair has several color options both for the frame and the upholstery. It's available online through Hem, starting at $1,599.
---
Stefanie is a New York–based writer and editor. She has served on the editorial staffs of Architectural Digest, ARTnews, and Oyster.com, a TripAdvisor company, before setting out on her own as a freelancer. Her beats include architecture, design, art, travel, science, and history, and her words have appeared in Architectural Digest, Condé Nast Traveler, Popular Science, Mental Floss, Galerie, Jetsetter, and History.com, among others. In another life, she'd be a real estate broker since she loves searching for apartments and homes.