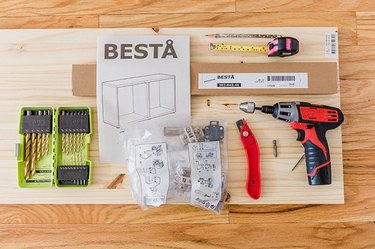 We've all been there. After finally upgrading from your first piece of IKEA furniture, it can be difficult to figure out what to do with that old lamp or sofa. Do you attempt to find a new home for it? Or do you just drop the whole thing on the curb? Now, the Swedish furniture giant is hoping to help with that problem.
Fast Company reports that IKEA will open its first secondhand store later this year in Sweden's ReTuna mall in in Eskilstuna, a space dedicated to retail resale stores. Self-described as the "world's first recycling mall," it originally opened in 2015. IKEA's shop will sell previously owned furniture and home goods that have been refurbished for purchase. (Not only that, but customers won't have to deal with those tiny Allen wrenches.)
The opening of the store is definitely in line with IKEA's goal to go circular by 2030. In addition to the bargain sections within their current stores, IKEA launched a program last year to lease out its furniture. The company is also phasing out non-rechargeable alkaline batteries by 2021.
In the IKEA Group Sustainability Strategy for 2020, the retailer stated: "As IKEA grows, we want to strengthen our positive impact and help meet the needs and aspirations of more families and households around the world... We can no longer use 20th century approaches to meet 21st century demands." The company's sustainability strategy includes enabling millions of customers to live a more sustainable everyday life at home; working towards energy and resource independence; and helping out the people and communities impacted by its business locally.
Here's to hoping we can visit the secondhand store one day.