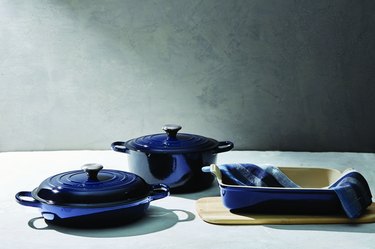 October means we are in full swing when it comes to Halloween, fall decor, and baking. And if you were thinking of splurging on new cookware soon anyway, we've got good news.
We love to see what new color Le Creuset might debut next and this one feels more timely than ever. The brand recently announced a dark blue-black hue called Cosmos — and it's perfect for spooky season. The color is so mesmerizing "you get lost in it, like a child gazing into the night sky," according to a statement from the company. Dreamy.
Here are just a few examples of the colorway on various Le Creuset classics.