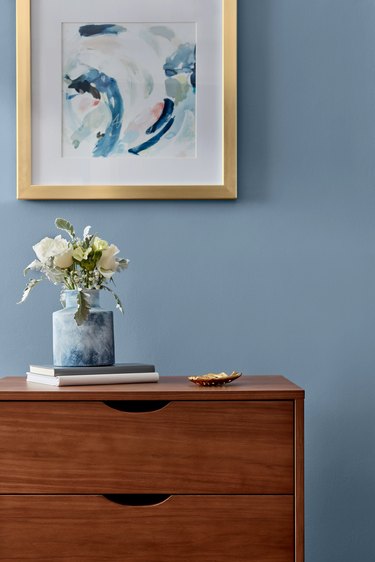 We could not be more excited for 2021, and thanks to Valspar, we now have 12 more reasons to celebrate the upcoming year. The paint brand has announced its 2021 Colors of the Year, a soothing palette of 12 hues that exudes a sense of serenity. Painting the rooms (or the exterior!) of your home in any of these shades is a perfect way to move past the chaos of 2020.
Valspar's color researchers took note of a shift towards mental well-being far before the pandemic started. "We had seen an approach to mindfulness and self-care on track for higher acceptance with our DIY consumers," Sue Kim, Color Marketing Manager at Valspar, tells Hunker. But she suggests that because of 2020 and the pandemic, the trend accelerated and became sought after by an even wider audience. "A lot of home improvement is actually setting up for self-improvement," she says.
In selecting 12 colors rather than just one, Valspar acknowledges that its customer base approaches self-care (and color psychology!) in different ways — some might want the calmness of blue, while others prefer the coziness of warm neutral hues.
"Our intent is for our DIYers to love just one of the colors, to have one color that really inspires and reflects your style," says Kim. "From there, you can always pair up with other colors within the 12, or we have dozens more that you can choose from!"