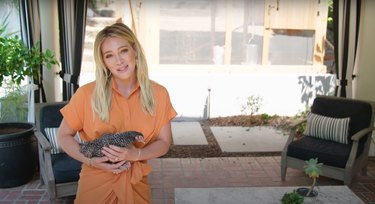 One of our favorite quarantine activities has been watching new episodes of Architectural Digest's "Open Door" series. Today, they truly gave us a treat in the form of actress Hilary Duff's home tour complete with views of her gorgeous art, unique kitchen backsplash, and even her enviable closet space. Duff has owned the home for a total of eight years and during that time, it has undergone two renovations to keep up with her eight-year-old son Luca and one-year-old daughter Banks.
Right next to Duff's family room (which she says is normally filled with her kids' toys) is the actress's eye-catching kitchen. "My favorite part about my kitchen are my crazy tiles," says Duff. "It was a really bold choice and seemed really loud, but now it's my favorite part of the house."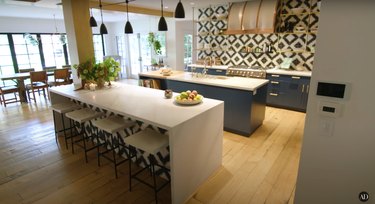 In addition to a stunning piece by artist Kate Mosher Hall, Duff has a vibrant relief made by artist Matthew Palladino. "It's very bright and colorful and pink ... I love pink," says the actress. The work of art beautifully complements all of the pink accents in the surrounding room.
Of course, Duff has a closet that Lizzie McGuire would surely approve of. It's not over-the-top, but it is filled with shoes, bags, coats, and more that we'd love to play dress-up in.
The last stop on Duff's tour is a bit of a surprise — it's a coop for her six chickens and hatchlings. "I spend a lot of time hanging out here with them 'cause I'm a dork," says Duff, smiling, while holding her chicken Patsy.
To see the rest of Hilary Duff's home tour, you can watch the Architectural Digest video here.