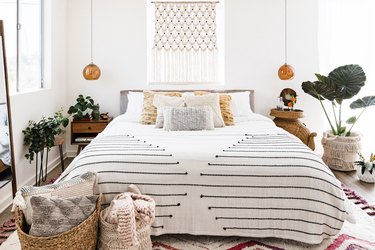 Given the train wreck that is 2020, we're all spending a lot of time in our homes, and that means many of us are redecorating. According to Pinterest, people are particularly focusing their attention on creating a bedroom sanctuary to get away from the chaos.
The company's latest report indicates that searches for bedroom ideas by users in the Gen Z demographic, specifically, have grown from July 2019 to July 2020 — especially ones that relate to creating a soothing retreat. Searches for the phrase "calming bedroom" tripled, and "feng shui bedroom layout" searches increased by two-and-a-half. And if you're wondering about what decor style is especially popular, the company says searches for "indie room" are up a whopping 151 times the usual amount.
"At Pinterest, we usually call this time of the year 'Back to Life,'" the company said in its report. "This year, instead of looking outside the home for inspiration, a fresh start in 2020 clearly begins within the home and within yourself. So, we're calling this year's transition 'Back to (home) Life'."
While we can't control what's happening all around us, we can do our best to find some room for self care in our home lives. A quiet place of solace for relaxation is always a good place to start.
---
Stefanie is a New York–based writer and editor. She has served on the editorial staffs of Architectural Digest, ARTnews, and Oyster.com, a TripAdvisor company, before setting out on her own as a freelancer. Her beats include architecture, design, art, travel, science, and history, and her words have appeared in Architectural Digest, Condé Nast Traveler, Popular Science, Mental Floss, Galerie, Jetsetter, and History.com, among others. In another life, she'd be a real estate broker since she loves searching for apartments and homes.