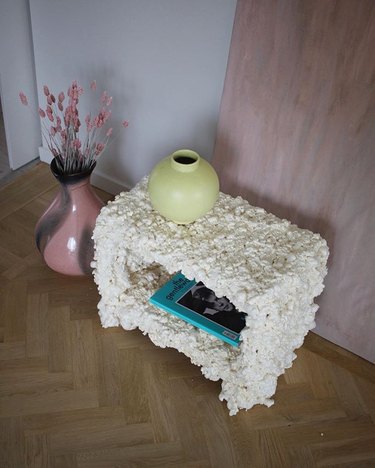 There's a new home decor trend in town and it has the design world abuzz. While some interior and DIY enthusiasts say that the spray foam furniture phenomenon that's taking over TikTok has serious staying power, others feel it's just a flash-in-the-pan fad that can't go away fast enough. "The foam furniture trend is huge this year!," Leah Ring of Another Human says. "It basically entails spraying expandable foam onto a mirror or other object, and a lot of people add color via paint — spray paint is the easiest."
(FYI: The "foam" DIYers are using is an adhesive, water-resistant sealant used to fill gaps, cracks and leaks in windows, walls, doors, and ceiling/skylights, in order to stop drafts and keep bugs out. It's polyurethane-based, so it's essentially a liquid plastic, which the EPA says contains chemicals that can release vapors and aerosols that can trigger respiratory issues (like asthma), and skin and eye irritation both during or after the installation process. That's why it's important to wear proper skin, eye and respiratory protection when using.)
Not sure what to make of the season's most divisive decor trend? We asked a few of our designer friends to share the pros and cons of the spray foam furniture craze, and here's what they had to say.
Since the foam furniture trend entails coating furnishings, mirrors, and accessories in spray foam insulation, Emily Spanos of Emily June Designs says it's both fun and an inexpensive DIY. "You can pick up the spray foam at any local hardware store," she says. "Many brands also sell 12-packs, which is great for tackling a sizable piece."
2. Pro: It's a fun creative project to try at home.
Given that most people are still stuck at home, Ring believes the spray foam furniture trend took off because people were in need of a creative project to try during quarantine. "I also think people are paying more attention to their homes than probably ever before, so a lot of people are realizing that interior design is super important," she says.
3. Con: It's not as easy as it looks.
While covering a piece of furniture in spray foam might be an inexpensive project, our designers say it's not necessarily an easy one. "It's important to remember that adopting a trend like this successfully is highly dependent upon the artistic ability of the DIYer holding that can of foam," Spanos says. "I recommend practicing on something small to start. Once you've mastered the foam basics, you can tackle that floor length mirror."
4. Con: Spray foam furniture pieces aren't built to last.
Ring says it's crucial to keep in mind that expandable foam is fairly fragile, so this trend will only work with certain furniture pieces, and will not last very long. "Sturdier items such as a hanging mirror, that won't really be touched or moved once it's hung, work best," she explains. "However, the pieces still crack and flake pretty easily, so there's not really a whole lot of longevity to a spray foam furnishing unless you were to seal the piece with a stronger material."
5. Pro: You can customize a unique furniture piece.
Make no mistake about it: No matter how your spray foam furniture project turns out, our designers say it will still be a truly one-of-a-kind piece. "With all of the abstract shapes you can achieve and vibrant spray-painted finishes, it's a whimsical trend that lifts the spirits and allows you to create your own unique piece of furniture," Spanos explains. "I'm a firm believer that any fresh and unique process someone can create at home with a limited number of tools is going to gain traction."
6. Pro: You can integrate other materials.
"I made a mirror a few years ago that used some foam, in combination with pool noodles that I had lying around (because I was developing my Pool Table at the time)," Ring says. "I used an orange expandable foam to fill in the gaps between cut up pieces of pool noodle and to bind the noodles together and to the mirror. It was a really fun, easy and inexpensive project that I did in about an hour."
7. Con: When done properly, it looks good, but if not, it's a hot mess.
While Spanos says that some of the foam furniture pieces she's seen look very avant-garde, others evoke the most tragic of Pinterest fails. "In the end, I would never write something off altogether; it simply depends on how well the project is executed!" Carneil Griffin of Griffin Direction Interiors adds: "Unfortunately, there's no way to ensure that the finished DIY results will be like the pictures, which means you may be contributing a ton of prep work and effort, with little guarantee of having an eclectic piece of spray foam furniture."
---
Caroline Biggs is a writer living in New York City. Her work has appeared in The New York Times, Apartment Therapy, Refinery 29, and more.
View Work