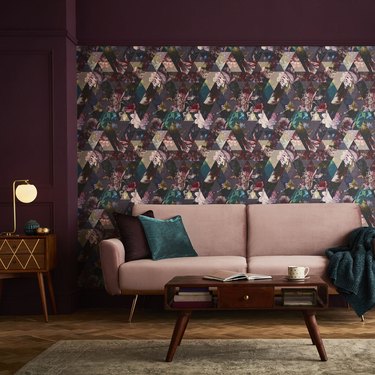 We're finally getting our first glimpses of 2021 as home decor companies announce their trend forecasts and colors of the year, and we are so excited to leave 2020 behind.
The 2021 Graham & Brown Wallpaper of the Year is a dazzling print called Timepiece. "As it's our 75th next year, we thought it's better to delve into the archive and go down memory lane and find some beautiful artworks," said stylist Jody Hudson during the presentation.
The team found three works from the archive, two floral designs and a geometric pattern, that were then combined to create Timepiece — it's as if vintage florals were reinterpreted as a street art mural, at once timeless and contemporary.
The wallpaper comes in three colors: the purple-hued Amethyst, the blueish Midnight, and the gray Moonstone. Each is paired with four paint colors to make for easy home styling (check them out here).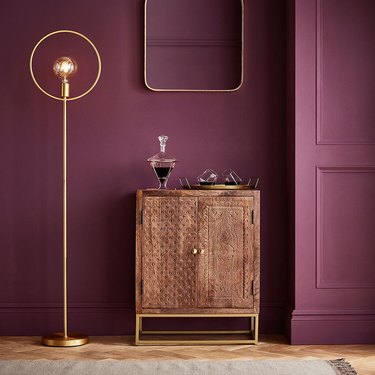 Pairing perfectly with the Timepiece wallpaper is Graham & Brown's 2021 Color of the Year, an opulent, velvety mauve called Epoch. Its name is drawn from the idea of looking back at the company's 75 years of business. "An epoch is a piece of time, so we just thought we'd have that retrospective look," Graham & Brown color and trends specialist Paula Taylor said during the announcement.
While Epoch is a pretty bold hue, it's surprisingly versatile. It can be paired with a more neutral palette to keep a room on the more subdued side, or it can be punched up with additional jewel tones like teal or flashy metallics.