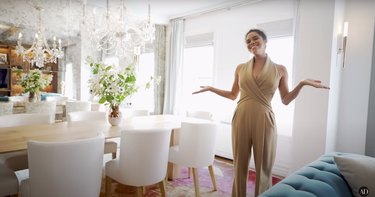 If you're a fan of ballerina, author, and activist Misty Copeland (and who isn't?), you're going to fall head over heels in love with her elegant New York City home. In Architectural Digest's latest "Open Door" video, Copeland takes us on a tour of the Upper West Side abode she shares with her husband, lawyer Olu Evans, which they designed in collaboration with interior designer Brigette Romanek.
Featuring neutral tones with pops of color and opulence, the home is truly fit for a glamorous ballerina. Just look at her dining room, which spotlights a chandelier, textured mirror wall, and bright white chairs we'd be terrified to eat near.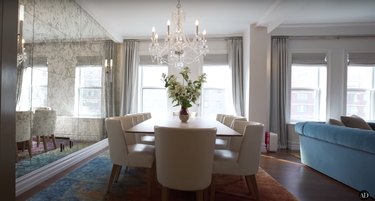 Around the home, Copeland and Evans have enviable artwork from artists such as Chibuike Uzoma, Lorna Simpson, and Asuka Anastacia Ogawa. "This, I think, is probably my favorite piece," Copeland says, pointing to this Ndidi Emefiele work of art in her shiny grey hallway:
When speaking of her chic dressing room, which was designed with help from California Closets, Copeland cites Old Hollywood and Mariah Carey as inspiration. "I remember seeing her dressing room and thinking, 'Is that something a little biracial girl who grew up poor could really have?'" says Copeland. "Especially as a Black woman, I think it's really powerful to be able to stand in this room and feel so proud of it."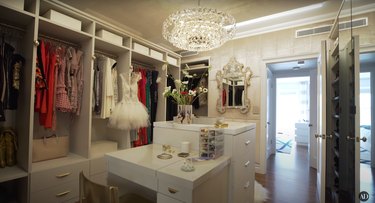 What you might find most surprising about Copeland's tour is the admission that even though she's a ballerina, she's "pretty clumsy." She mentions that the tufted, padded walls in her serene, light-filled bedroom are great for this reason.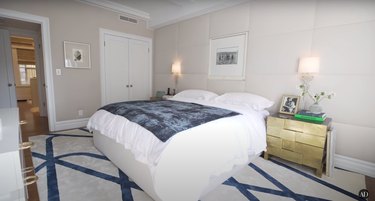 To see Misty Copeland's entire home, you can watch the rest of Architectural Digest's video here.