While we're obviously big fans of spending time at home, we'll admit it — the pandemic's got us craving a vacation. Of course, traveling right now is only a possibility if you take plenty of precautions while on the road, generally avoiding as much contact with other people as possible. Thankfully, there are plenty of ways to do that, including booking a stay at a Sonder.
Sonder is a travel startup that exists in the space between hotels and Airbnbs: The company manages accommodations that offer guests the autonomy and local character of apartment rentals as well as the convenient amenities (think: virtual concierges available 24/7 and toiletries in the bathroom) and high quality standards of hotels.
"We directly lease and manage every space, and control the entire guest experience from booking to checkout," a Sonder spokesperson tells Hunker. "And our spaces are managed by our local teams who live in every market we operate in."
So unlike the case with many vacation rentals, no one is actually living in Sonders, meaning you won't feel weird about living in a stranger's house, sharing the refrigerator with their leftovers, and sleeping in their bed. And there's no such thing as an unresponsive host or an uncleaned space that show reminders of the last guests.
But at the same time, you don't have to deal with cookie-cutter hotel rooms that feel as if they could be located anywhere in the world — or the often high prices of boutique properties that do have some local charm. (Sonder's average rental price is just $189 per night.)
A Sonder is a bit of a Goldilocks situation: not too personal, not too sterile, but juuuust right.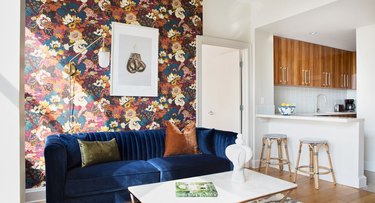 The best part, at least in terms of the pandemic, is that your entire stay can be contact-free, meaning it's a very safe option during COVID-19 times. (For more on Sonder's current cleaning standards, click here.)
"From the beginning, we've been building a hospitality company with a low-touch digital model, that offers self-contained apartments and minimal human interaction," says the Sonder spokesperson. "We eliminate lines and crowded lobbies for guests with keyless entry and digital concierge services, in addition to offering larger living spaces and often full kitchens and in-unit laundry. This contact-free model is what travelers are looking for in a post-COVID world, and it's ingrained in the way we operate."
Currently, Sonder operates more than 5,000 units in 39 cities across seven countries (including New York, London, Dubai, Rome, Palm Springs, and New Orleans, among many others), and it has plans to expand even further. As travel starts to ramp up again and we look to book a vacation, we'll certainly be checking to see if there's a Sonder in town.