Before the coronavirus pandemic left many of us working from home, you likely dreaded the idea of going to work in a cubicle. But now, months into working from your home — where you also eat, sleep, watch TV, spend time with family, and more — you might find yourself actually missing the quiet calm of your cubicle. Fortunately, many people can now experience that from home.
In September, Panasonic will be releasing The Komoru, a 10.8-square-foot cubicle you can easily assemble at home with a single tool (it comes with the kit). Complete with a desk and four-foot walls made of pegboards that can be configured to suit your home's layout, The Komoru was designed to help you work without distractions.
According to a survey conducted by Panasonic, 70% of participants prefer working from home, but half of those people do not have an official work station. The Komoru was created to be the solution.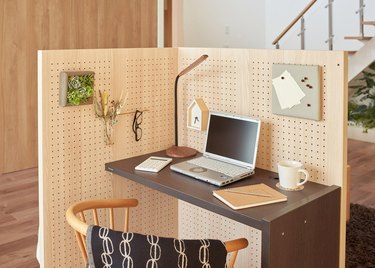 Now, for the bad news. According to Apartment Therapy, Panasonic will only be releasing the Komoru in Japan for 88,000 yen ($835). Hopefully, it will make its way to the United States, but in the meantime, you can use the following items to make your very own cubicle at home.
This tabletop is surrounded by fabric on three sides to help you stay focused on your work and nothing else.
This extendable room divider can help you carve out a private space in your home. For the curtain, you can either add a DormCo option before checking out or use a spare sheet you already have at home.
With its dark gray design, IKEA's Bekant screen is ideal for a home office that has darker tones.
For a simple, minimalistic solution, this paneled room divider can provide privacy where you need it most.