Celebs always give us fashion and beauty inspo, but now that they're spending more time at home, we also get a peek into their decor style.
As Domino recently pointed out, Gabrielle Union-Wade's boucle couch looks incredible comfy. And she's not the only one that loves a white, puffy couch.
The Restoration Hardware Cloud Couch, for example, is one of the trendy pieces we've seen referenced on Instagram. Basically, it's a large, white couch that you can sink into. It comes with three depths and two fills.
If you do a Google search for it, you'll get related searches like "restoration hardware cloud couch DIY" and "what is the cloud couch made of?"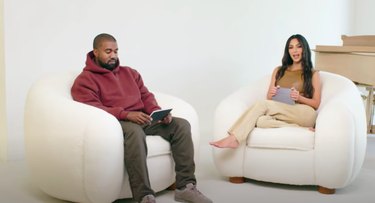 While you might expect celebs with high-end taste to have minimal (and probably uncomfortable) furniture with clean lines, turns out they just want comfy couches, too. Preferably in minimal tones and curving shapes, these furniture pieces are on the opposite end of something like, say, a midcentury modern leather couch or a vintage-inspired velvet one. You can find them everywhere from West Elm to Interior Define.
Kim and Kanye's space definitely featured some cloud-like seating that fit right into their wabi-sabi aesthetic. And Kendall Jenner's home features a plush couch too.
"I feel like everyone has a cloud couch but they really are the best," Jenner says in an Architectural Digest home tour. Hers was designed with a slightly "rougher of a fabric" to fit in with the home's look.
We spot an equally inviting couch in the space of Issa Rae, which she wanted to infuse with a "resorty, chill vibe" inspired by Palm Springs.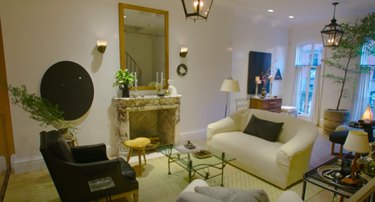 And, finally, you can always take a few pointers from Kelly Wearstler, who knows the power of a good statement furniture piece.