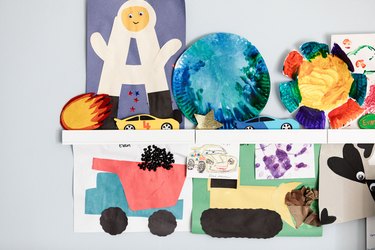 We've seen quarantine projects range from baked goods to IKEA hacks over the last few months. But Chrissy Teigen just took it one step further with a seasonally-appropriate project: a classroom at home.
Given that many kids are currently starting a new school year virtually, this project totally makes sense. Remote learning isn't always easy, especially depending on whether you have a good setup at home. Teigen's layout includes plenty of storage (including a clothing rack for dress-up), two kid-friendly tables, and even a row of play appliances. We spot lots of baskets and hooks that might help little ones know there's a place for everything after school/play time is over.
Of course, not all parents have access to this much space, or that picturesque of a view (all that natural light!).
As our Director of Editorial Operations and fellow parent, Laurie, puts it: "The fun and excitement of this set up won't last very long. Home schooling?! Help! I say, good for her, though."