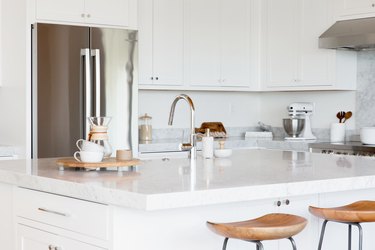 Few treats offer as much relief from the heat and the pandemic — and, you know, the general state of things — than a luxurious pint of ice cream. The sweet, cool indulgence helps to make these strange days a little more bearable. But according to the much-loved ice cream brand Ben & Jerry's, enjoying it to the fullest means storing it a little differently than you might imagine. There are a few tricks to make sure you get optimal ice cream scoops when you store that half-eaten pint in the fridge.
For starters, the brand recommends (very carefully) closing your lid tight, and placing the pint in your freezer upside down. So instead of seeing the tops of your pints, you should be seeing the bottoms when you reach for them.
"This causes the melted ice cream to drip onto the lid where it has less chance of ruining the still-cold portion," the brand writes. It also helps avoid freezer burn. Good to know as we try to weather these last few weeks of summer (and, TBH, as we enjoy ice cream even in the dead of winter).