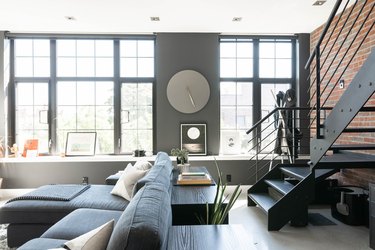 The effects of the coronavirus pandemic have altered the way we travel, shop, and work — and now it's directly impacting the way we live. According to a report by real estate website Zillow, rent growth across the country is slowing down, especially in urban areas. As millions have lost their jobs, many renters have vacated their apartments and moved in with family members, creating somewhat less demand in the rental market.
While summer is typically a season that sees strong rent prices grow nationwide, "annual rent growth has slowed two percentage points in urban areas, compared to 1.4 percentage points in suburban areas" between February and June of this year, per Zillow. The reason behind the larger decrease in urban rent growth is likely two-fold: first, cities were more impacted by unemployment than the suburbs, and second, lifestyle tastes may be changing due to lockdowns.
Though rent growth is down overall across the country, there's also plenty of variation between different metropolitan areas.
In the Los Angeles, Long Beach, and Anaheim region, year-over-year urban rent growth in June sits at 1.6%, slowing down 2.5% since February. Year-over-year suburban rent growth in June sits at 1.2%, slowing down 2.1% since February. Thus rental growth in both urban and suburban markets are staying relatively on pace with one another, both slowing at similar rates.
But in the New York region, year-over-year urban rent growth in June sits at 0.1%, slowing down 3.8% since February, while year-over-year suburban rent growth in June sits at 2%, slowing down 1.3% since February. Here, urban rent growth is slowing down significantly faster than suburban rent growth as New Yorkers leave the five boroughs for the 'burbs.
Given that we're just a few months into the pandemic, it'll be interesting to see the long-term effects on the rental market. If we keep moving in the same direction, you might see many more of your friends trade shoebox apartments for white picket fences sooner, rather than later.
You can find the complete report here.