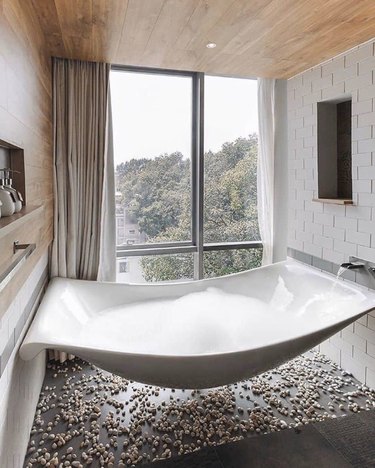 So, yesterday, the internet lost its mind over this:
Yes. Hammock tubs. What an idea! How have we lived so many decades on this earth and no one ever once schooled us on the combination of two ALREADY PERFECT things?
Instagram confirms that hammock tubs are indeed a thing. Just take a look at some of these images that make us yearn for the existence of something we can't have:
In case you thought a hammock tub wasn't quite luxurious enough, you could always add a chandelier above:
Eh, this setup is not our preferred, but we'll take the cat:
A hammock tub in the living room? Why the heck not.
Getting closer to an ideal setup here ...
So, how can one acquire a hammock tub? It would appear one of the more popular makers is a U.K.-based company called Splinterworks, which crafts a few models of hammock tubs. Their work seems to cater largely to an upscale audience, with their hammock baths appearing in a number of luxury hotels like the the Vina Vik in Chile, which was named in Condé Nast Traveler's list of Most Luxurious Bathrooms in the World.
So, basically, once we win the lottery, we will absolutely be installing a hammock bath in our dream home.
---
Leonora Epstein is Hunker's Senior Director of Content. She has previously served as Executive Editor at HelloGiggles and as BuzzFeed's Deputy Editorial Director. She is the co-author of "X vs. Y: A Culture War, a Love Story" (Abrams, 2014). Feel free to reach out at leonora@hunker.com.
View Work