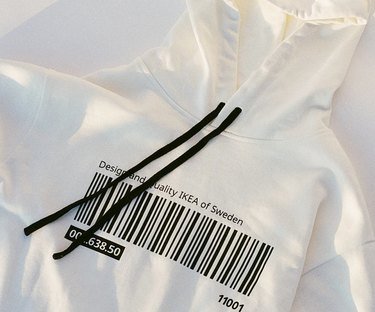 If you love IKEA so much, why not add the company look to your wardrobe? That's what the company is offering in an upcoming collection between IKEA Sweden and IKEA Japan.
The brand points out that lots of people — from fashion designers to decor enthusiasts — have turned the IKEA logo into their own items in Tokyo. We've also, of course, seen plenty in the U.S. and elsewhere, too (there are even face masks, which we don't recommend, but they are pretty timely).
"Now it's time for the real thing with the launch of the 'EFTERTRÄDA Collection,' the brand says in a press release. Efterträda, the brand explains, translates from the Swedish to "successor," meaning fashion could be the next chapter for the brand.
But it's not just trendy t-shirts and hoodies. The collection will also feature an umbrella, tote bag, two water bottles, and two bath towels. So you can deck yourself out in any weather, and even when you're just chilling at home.
The collection drops at IKEA Harajuku on July 31, through August 6. Fingers crossed it comes to other countries soon, too. Maybe we could match it with our IKEA bucket hat.
---
Eva is a Los Angeles-based writer who covers trends, news, and makers for Hunker. Her writing has been featured in the Los Angeles Times, The Guardian, Bustle, KCET and more. She is a proud bookworm and organizes her books by color.