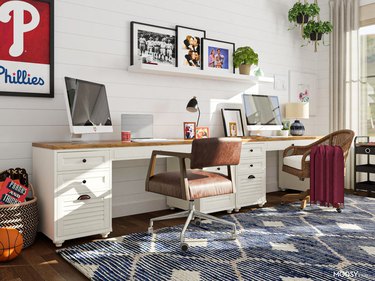 It's pretty hard to imagine The Office without, well, the office. But if the show were set in 2020, we'd get to watch America's favorite dysfunctional coworkers navigate the challenges of working from home. (We just know that during the all-hands Zoom meeting, Michael would end up taking his laptop to the bathroom, Meredith wouldn't be wearing any pants, and Stanley would go audio-only so he could work on his crossword puzzle.)
If you're curious about what their WFH setups would actually look like, online interior design site Modsy has imagined the home offices of some of your favorite characters from the show. Explore the private workspaces of Michael, Dwight, Jim and Pam, and Kelly — and shop what you see on in the renderings via the links below.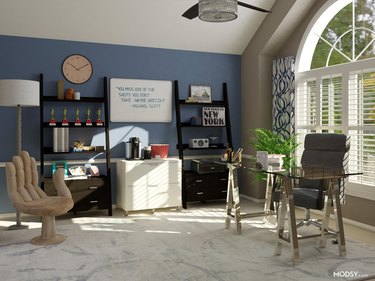 Thanks to the lovely tour in what might just be the best episode of The Office — "The Dinner Party" — we actually know what Michael's home looks like. Assuming Michael finally got rid of all of Jan's candles and made space for his own home office, we think this is a pretty spot-on representation. We're a little disappointed there's no George Foreman grill, but we'll take the Dundees on the shelf.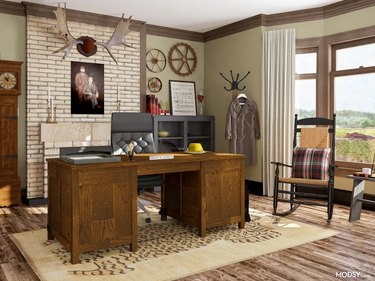 "Dwight was always proud of his old farmhouse and loved solid construction furniture (Pennsylvania Dutch specifically!) so he would undoubtedly have a solid desk in his office," wrote Alessandra Wood, Modsy's VP of Style, in the description of Dwight's office. We love the industrial vibe and antique decor, too.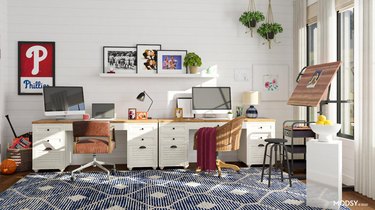 Of course Jim and Pam would have a shared office in their house — there's no splitting these two up during the workday! The duo has a pretty classic style that's slightly farmhouse inspired, with a shiplap feature wall that's oh-so-trendy. We love how the space doubles as Pam's art studio, too (as well as Jim's ode to Philadelphia sports).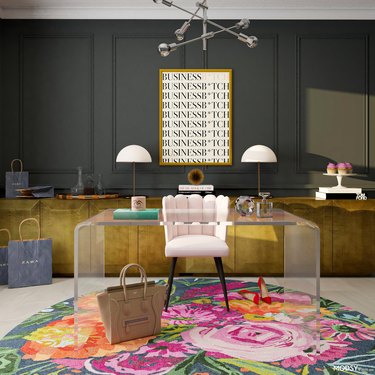 The most fashion-forward employee of Dunder Mifflin's Scranton branch, Kelly Kapoor would have a home office that exudes #bossbabe vibes. Acrylic desk? Check. Gold cabinetry? Check. Millennial pink art-deco-inspired chair? Check.