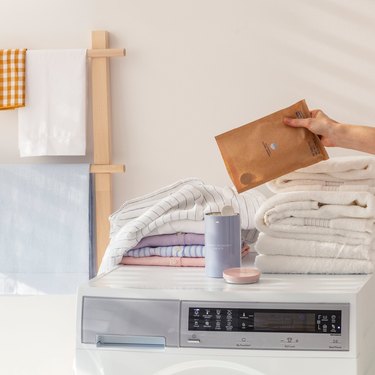 We'll be honest — we love the convenience of laundry detergent pods. It's delightful to be able to just throw one into our washing machine without any thought. But you might wonder if these individual-use detergent products are good for the environment. While many on the market use PVA (polyvinyl alcohol) plastic — which is biodegradable, with time — Blueland wants to push the envelope even further.
Today, the company has launched its plastic-free laundry tablet. The company, which is known for its line-up of plastic-free cleaning products like dish soap, dishwasher tablets, and cleaning sprays, is now selling laundry tablets that are free of dyes, phosphates, chlorine, parabens, and phthalates. They aren't individually wrapped like other PVA-covered tablets, either. They're also 69% smaller than your standard ones, according to the brand.
While they lack some of the harsher chemicals found in similar detergent products, the tablets are still stain-fighting, dissolving in both hot and cold water to thoroughly clean your clothes. The Laundry Starter Set is $18 and comes with 40 laundry tablets in a compostable paper-based pouch and a reusable steel container.