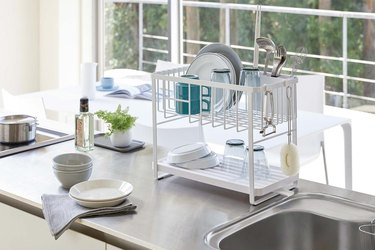 While we won't necessarily be able to celebrate Fourth of July weekend the way we usually do (thanks, COVID-19), there is one thing that'll stay the same — big sales. If you need a little retail therapy, head over to Yamazaki Home, which is offering 15% off all orders over $100 from today through July 5. And that's on top of its regular summer sale, with items up to 40% off.
We're big fans of Japanese brand Yamazaki Home for its minimalist storage solutions that will help you keep your space clutter free in style. We don't know about you, but we personally need organization help now more than ever, given that we've acquired quite a bit of stuff during lockdown.
Shop some of our favorite Yamazaki Home products below, and don't forget to use the discount code SPARKLERS15 for 15% off this holiday weekend!