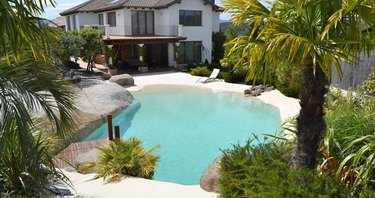 Welcome to The Cool Down, Hunker's definitive guide for staying cool, calm, and collected all summer long.
With many beaches still closed across the country, summer isn't quite panning out the way we'd hoped it would. But what if we told you there was a way to bring the beach to your own home?
Spanish company Piscinas de Arena specializes in creating beach-like swimming pools that can transform your backyard into a tropical paradise. It uses a proprietary concrete blend covered with compacted sand called NaturSand to create a textured surface around and inside your pool. That material combined with a sloped zero-depth entry makes your pool feel pretty authentically beachy! And if you're worried about sand getting everywhere, don't — there's actually no loose sand involved, so pool maintenance is exactly the same as it is for a regular pool. The company has installed sand pools in spaces everywhere from the U.S. to Mexico to Argentina.
The best part is you don't necessarily need to start from scratch. If you already have a pool, the company can modify the existing structure to create a beachy oasis. But if you are planning on putting in a brand new pool, you can work with Piscinas de Arena on a custom design, or you can pick one of several pre-established plans.
Of course, installation isn't cheap — pricing typically runs tens of thousands of dollars. But on the plus side, a project can be completed in as little as 30 days. For now, we'll just spend some time on their website dreaming of our own sand pool.