When converting an attic into a livable space, we're often inclined to think of it as a lofty bedroom or even a quaint library. But when you have the extra square footage to work with, consider transforming it into a fully-functional kitchen. Understandably, those don't come along very often. Who, after all, has enough room up there to accommodate cabinets, much less an oven and refrigerator? Cue the spacious floor plans set below mansard-style roofs that present the opportunity for carving out an idyllic attic kitchen.
But before you get started, enlist the help of a contractor or an engineer to assess the space and ensure that all of the building codes have been met. Installing an attic kitchen can get tricky from a logistical standpoint. For instance, is the existing floor able to handle the weight of a bulky fridge, cabinetry, and maybe even a dining table? Are you able to extend electricity, gas, and plumbing upstairs? And don't forget, you need to be able to secure a proper source of ventilation, too. A licensed professional can answer all of those questions, and evaluate whether or not your attic is suited for secondary cook space.
Once you have all of that figured out, it's time to think about how you will approach the design. More often than not, you'll be working with cramped quarters so maximizing every available square inch is of the essence. Other than that, it's all about how you will define the room from a stylistic standpoint, while assuring that it's functional, too.
To help you get started, we've rounded up a few of our favorite attic kitchen ideas that are sure to inspire. Take a look.
1. Don't shy away from color.
2. Rethink the cabinetry.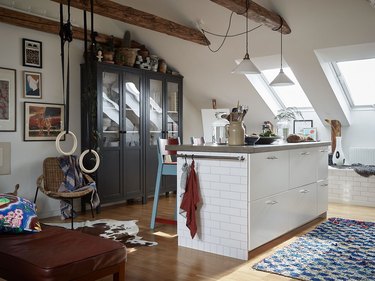 This cozy attic kitchen from Historiska Hem embodies the quintessence of Scandinavian charm with its eclectic furnishings and streamlined design. The freestanding storage unit along the back wall provides a viable alternative to built-in cabinets and manages to double as the focal point of the room. Take this route to save on installing custom cupboards and drawers.
3. Don't forget the textiles.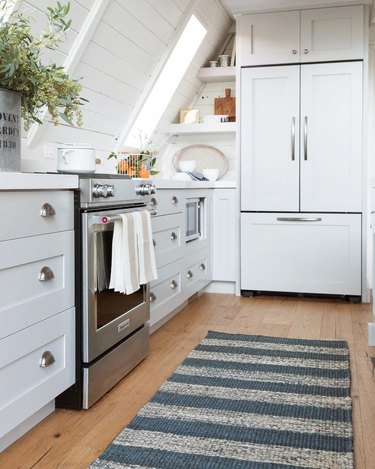 No matter how small and cramped an attic kitchen is, it still deserves the same amount of attention that its larger counterpart would get. Bring in patterned textiles, such as woven rugs and tea towels, to give it a pop of color and warmth. The striped landing pad from McGee and Co., seen in this tiny cook space, not only serves a functional purpose but it also offers a touch of contrast to the all-white scheme.
4. Downsize the appliances.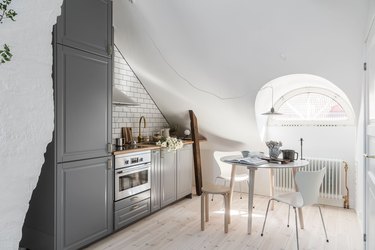 Quaint, yet entirely functional, this dreamy setup designed by Emma Fischer for Alvhem proves that bigger isn't always better. Consider downsizing your appliances, and opt for a compact electrical stovetop (it's much less fussy than a gas version) or a mini-fridge, and perhaps forgo items like a dishwasher or oven altogether. The leftover space will allow you to extend the countertops and even squeeze in a little eating area as well.
5. Turn it into a hostess hub.
If you're planning on designing an attic kitchen to serve as a supplementary cook space, skip out on the traditional elements and go for a setup that is more entertaining-friendly. Case in point? This vibrant Parisian Airbnb where a set of floating shelves function as a pantry, a bar, and a plant display all in one. The roomy countertops, outfitted with all sorts of libations, barware, and mini appliances, earmark it as a party-ready spot.
6. Work with existing architecture.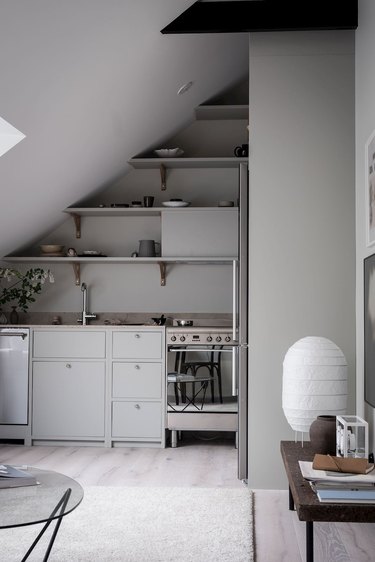 Not all attic kitchens need to be sprawling displays complete with islands and pantries. Sometimes, a charming kitchenette, like the one in this Gothenburg home, can do just fine. Note how the custom shelves complement the sloping ceiling, ensuring that there isn't an inch of available wall space that goes unused.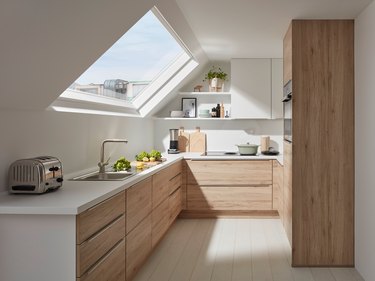 A well-lit workspace is always an important element in a culinary space and even more so in an attic where windows can, at times, be nonexistent. If that's the case, install a variety of floor lamps and pendants to provide the room with ample lighting. Alternatively, if you're building yours out from scratch, take Kuche and Co.'s lead and install a skylight and design your attic kitchen around that.
8. Incorporate existing fixtures into the design.
Chances are, your space may feature varying ceiling heights, load-bearing beams, and columns, often in inconvenient locations that may get in the way of your dream kitchen. But instead of trying to hide or cover up these unique details, use them to your advantage and incorporate these structural elements into your cook space. For instance, the waterfall countertop in this attic kitchen was constructed around the wood columns, resulting in a visually dynamic, yet cohesive design.
9. Conceal and compartmentalize.
Attics and minimalism go hand-in-hand — after all, tight quarters call for smart design. Take a design cue from this Berlin apartment and outfit your one-wall attic kitchen with a uniform build that includes the appliances, storage, and sink all in one sleek unit.