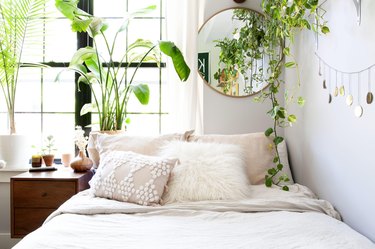 Here at Hunker HQ, we're all big time plant lovers. So it should come as no surprise that we'll jump at any opportunity to wax poetic about greenery-infused interiors. And if you think about it, our obsession makes total sense: plants bring a lot to the design table — like cleaner air, vibrant color, and texture, just to name a few.
Need some inspiration? Look no further. Ahead, you'll find nine picture-perfect examples that will motivate you to cozy up to your leafy greens.
1. Put your bed frame to work.
If you're looking for a creative and unique way to bring your plant-themed bedroom idea to life, let us introduce you to this dreamy space. Using an IKEA bed frame, photographer Trix was able to put her plant babies front and center. Now these beauties are the first thing she sees in the morning and the last thing she sees at night.
2. Proudly showcase your small cacti collection.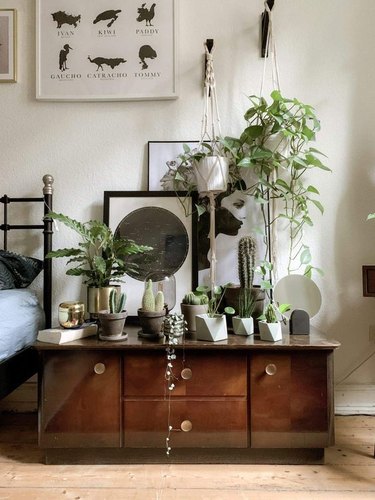 Have a small cacti or succulent collection that you've been dying to show off? Now's your big chance. Instead of using the top of your nightstand for bedside reading book storage, turn it into a serene desert garden instead, as masterfully demonstrated in this peaceful sanctuary. Lean a couple of your favorite framed art pieces against the wall to complete the look.
3. Hang 'em high, hang 'em low.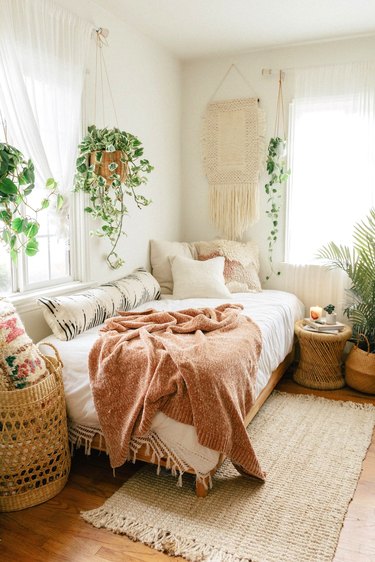 Follow the lead of this cozy design by Sarah from Black & Blooms, and keep your floor and tabletops clear. She opted for hanging planters in her plant-themed guest bedroom, and the result is a home run. We especially like the way she used the ends of the drapery rods to hang her verdant foliage, instead of damaging the walls and ceiling with additional holes.
4. Go all in.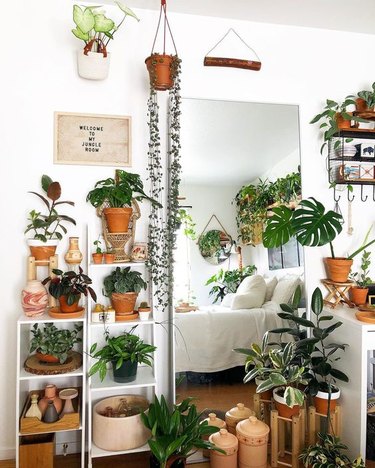 From hanging planters to terra cotta pots, this plant-themed bedroom belonging to Andrea from My Jungle Room has it all. Utilizing every square inch, she manages to artfully display her verdant greenery without letting it take over the room. A job well done!
5. Consider a shelf.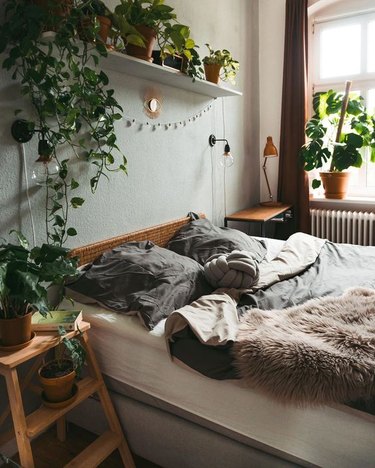 Or, take a page out of Fridlaa's dreamy bedroom design handbook, and try to limit your foliage to a single shelf. Just be sure that you don't live in an earthquake-prone area before you fall in love with the idea.
6. Frame your bed.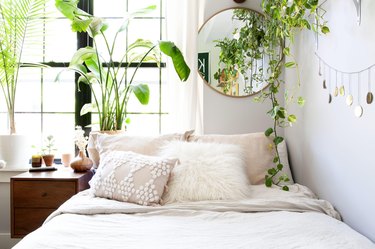 We see your shelf idea on one side of the bed, and raise you a potted palm and banana leaf plant on the other side, à la this space belonging to Janae Brown. We love how the combination frames her bed oh-so-perfectly.
7. Let the jungle inspire you.
Calling all boho maximalists: This plant-themed bedroom idea is for you. Shanna from My Bedroom Jungle really went for it, and covered her sleeping quarters from floor to ceiling in lush foliage. And while we love, love, love this setup, we can't help but wonder: How long does it take to water all of that greenery?
8. Divide and conquer.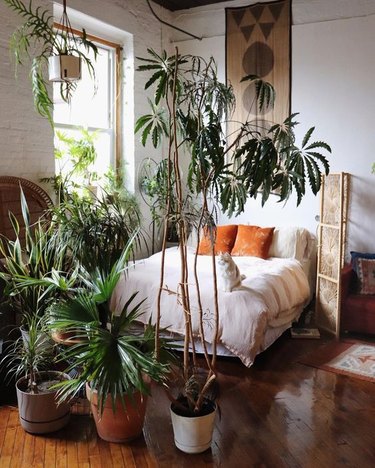 If you haven't heard, greenery is an excellent way to divide space in an open floor plan. Ceramicist Gabrielle Silverlight shows us how it's done using an assortment of tall potted plants that provide just enough privacy.
9. Take an artistic approach.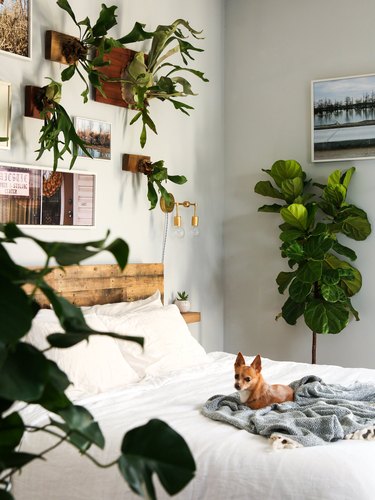 Clearly, Matt and Beau of Probably This know a thing or two about plant-themed bedrooms. They took the artistic route displaying their greenery by creating a gallery wall above the bed, made up of staghorn ferns from Luna Botanicals and framed art prints. A rustic headboard, brass sconces, and a verdant fiddle leaf fig complete the look, and it would seem that their little dog Fox approves as much as we do.
---
Ariane Moore is Los Angeles-based writer and editor who covers architecture, design, home decor, and trends for Hunker. She has a B.S. in Interior Architecture and Design and previously worked as an interior designer at award-winning firms in both Las Vegas and Los Angeles.