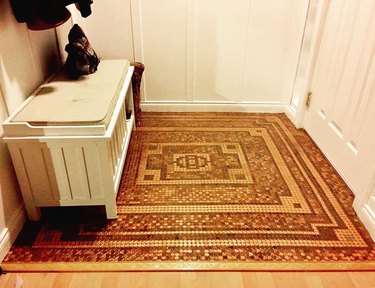 We're always on the lookout for cheap design options, but who knew you could redo your entryway for pennies — literally? And what better project to tackle while you're stuck at home?
That's just what LA-based Kelly Graham of Camias Jewelry Designs did in her home, and it only took 7,500 (or $75) worth of pennies and around three weeks of work. The 6-by-6 mosaic flooring is made almost completely out of pennies with the exception of a few dimes thrown in for a bit of color.
"After sorting the pennies into color schemes, I put every penny heads up and facing the same direction, feeling the light would glint off the surface in a pleasing manner," Graham told BuzzFeed in an interview. "I glued each penny down with caulking, being careful to only put enough to adhere the penny to the existing tile."
She filled the gaps with an earth-toned grout before letting the floor dry for a week. It was then sealed with an UV poly resin. She says the project, which was completed five years ago, has held up surprisingly well and that not a single cent is out of place.
While the project was time consuming, Graham says that building the mosaic never got boring, and that the cost was far less than new flooring would have been. In fact, she says the project was cathartic for her. "I have always enjoyed making designs that are fluid, yet symmetrical, and I've incorporated that into my penny work," she said.
For more of Graham's work, including other non currency-based designs, check out her Facebook and Etsy pages.