Have you ever wished you had a personal assistant to help you keep track of the gazillion home projects you're currently undertaking or are in the process of planning? If hiring someone isn't quite in your budget, you can try the next best thing. Pulled, a new app which just launched, is a handy tool for homeowners and renters to connect with home professionals (designers, housekeepers, contractors, landscapers — you name it) and manage all their services.
"The design and home services market has changed dramatically, with more and more homeowners/renters expecting the same experiences provided by other technology platforms like Uber and Instacart," Michael Clarke, founder and CEO of Pulled, said in a statement.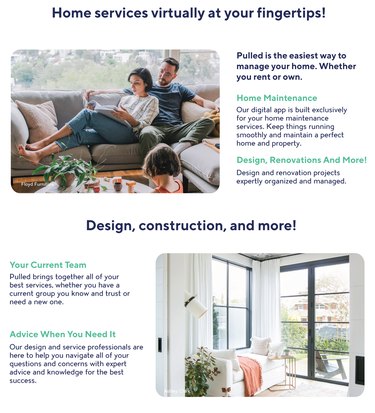 Not only is the app a management tool that keeps your tasks organized and streamlines your communications with your vendors in one place, it's also a social network of sorts. Professionals can upload examples of their work, including press mentions, to give an easy view of their experience. You can also search for service providers that come referred by other Pulled users if you don't know where to start.
Given our increasingly contactless world that's relying heavily on the digital realm (thanks, coronavirus), there's no better time to manage your home projects in one place. The app is currently offering spots on its waitlist; you can find out more here.
---
Stefanie is a New York–based writer and editor. She has served on the editorial staffs of Architectural Digest, ARTnews, and Oyster.com, a TripAdvisor company, before setting out on her own as a freelancer. Her beats include architecture, design, art, travel, science, and history, and her words have appeared in Architectural Digest, Condé Nast Traveler, Popular Science, Mental Floss, Galerie, Jetsetter, and History.com, among others. In another life, she'd be a real estate broker since she loves searching for apartments and homes.