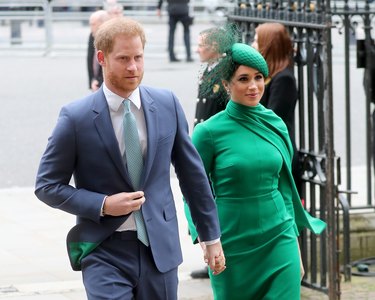 If you've been following along with the predictions about where Prince Harry and Duchess Meghan Markle will settle down, we've got an update for you. After a few rumored new homes, reports have revealed that the royal icons have at least found a space to call their own for the meantime. And it's oh-so-luxurious.
According to the Daily Mail, the royal couple is currently staying at actor, director, and producer Tyler Perry's Beverly Hills mansion. It's worth a whopping $18 million and sits on 22 acres. The interior boasts 12 bathrooms and eight bedrooms.
Photos show a luxurious pool area, lots of white columns, and plenty of greenery. Fit for a royal family, in our opinion. According to the Los Angeles Times, the mansion hasn't been sold yet — so it could definitely become their future home.
We'd love to visit some time if they'll have us?