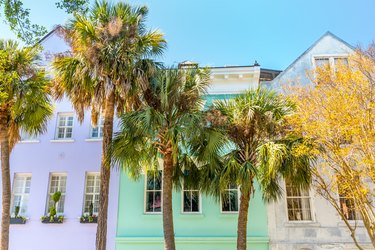 Finding a new place to live is never easy, especially when you're a first-time house hunter. Good news: Realtor.com conducted an exhaustive study and determined the ten easiest locations to buy a home across the United States, based on factors such as affordability, available inventory, and community offerings.
Ready to hear more about which cities in America make buying a house a breeze? We asked a few real estate experts to weigh in on Realtor.com's findings, and here's what they had to say.
1. Cape Coral, Florida
According to Realtor.com, there's no better place to buy a home in America than Cape Coral, Florida. Along with reasonably priced housing (median listing prices hover at about $325,045) and lots of available inventory, the city is home to more than 400 miles of canals on Florida's southwestern coast, making it a popular vacation destination. "Cape Coral is a young waterfront city with rapid growth and strong potential, plus affordability in a tropical lifestyle surrounded by abundant natural beauty, water sports and recreation, which is tough to beat," Penny Lehmann, a real estate agent for Coldwell Banker Realty in Cape Coral says. "It's no wonder we are one of the top three fastest growing cities in the United States."
2. Bridgeport, Connecticut
Love the idea of living in a metropolitan area but don't want the hustle and bustle of a big city? Bridgeport, Connecticut is just an hour's drive away from New York City and is teeming with affordable starter homes. "Bridgeport has seen a growing trend of buyers because it is less costly than New York," explains Irene Ferreira, a real estate agent at Coldwell Banker Residential Brokerage in Fairfield, Connecticut. "There is a downtown business and art district including high rises, condominiums, and refurbished factories and other renovations projects, as well as a mixture of local business and single-family homes in suburban neighborhoods."
3. Charleston, South Carolina
Brimming with Southern charm and cobblestone streets, the port city of Charleston, South Carolina has a thriving tourist economy, which makes buying a property there a breeze. "The Charleston real estate market offers a wide selection of home price ranges in both new and existing homes and is topped off with great weather," says broker associate Mickey Rakes of Charleston's Coldwell Banker Residential Brokerage. "Charleston has a vibrant real estate market and economy plus a large professional base of experienced real estate experts to advise the home buyer through the process."
4. Virginia Beach, Virginia
Much like Charleston, Virginia Beach is filled with fairly priced starter homes in a warm, easy-going community. "This young city spreads over 300 square miles and offers a broad range of housing opportunities for multiple generations of buyers and lifestyles," says Dorcas Helfant-Browning, Principal Broker at Coldwell Banker Professional Realtors in Norfolk, Virginia. "Low taxes, low crime rates, great schools, abundant public parks and recreation centers, various cultural facilities, leading health care providers, and a strong and growing range of employment opportunities exist."
5. Las Vegas, Nevada
News alert: Nevadans don't pay state income taxes, so if you're in the market for an affordable place to buy a home with lots of big city appeal, look no further than Las Vegas. "Any Las Vegas resident will tell you that there is more to the city than life on the Strip," says Molly Hamrick, COO & President of Coldwell Banker Premier in Las Vegas. "Although we enjoy world class dining and entertainment, there are many affordable neighborhoods in the Valley that put you only minutes from outdoor recreation. All-in-all not only is it easier to buy a home, but our local lifestyle makes Las Vegas the decision to buy here an easy one."
6. New York, New York
Believe it or not, the city that never sleeps is the sixth easiest place to buy a home according to Realtor.com's research. "The New York City real estate market in 2019 was filled with inventory, at record low prices and a true lack of buyers," explains broker Ted Karagannis of Warburg Realty. "With current interest rates so low, and more and more product hitting the market each day, NYC right now is the place to be. Whether you're looking for a studio or a multimillion-dollar condo in the sky — seize the moment!"
7. Baton Rouge, Louisiana
Thanks to an affordable housing market filled with inventory, Baton Rouge, Louisiana comes in at number seven on Realtor.com's list of easy places to buy a home. According to their research, the median listing price for a home in Baton Rouge is $239,950 — more than $100,000 less than the national average median listing price of $356,345. Additionally, for every 1,000 owner-occupied households in Baton Rouge, 19 are available to purchase, compared to the national average of 16 listings per thousand owner-occupied homes.
8. Des Moines, Iowa
In the real estate world, new construction means more inventory to choose from, which is why Des Moines, Iowa is considered one the easiest places to buy a home in 2020. "We didn't suffer through the economic downturn like other areas of the country which made our bounce back quite a bit faster and easier," Erika Hansen, an agent at Coldwell Banker Mid-America explains. "We have a healthy amount of new construction in well-thought out neighborhoods with parks, trails, and an evolving education system throughout the Metro. Property taxes help keep our affordability desirable too."
9. Houston, Texas
It's true that everything is bigger in Texas, but according to Realtor.com, real estate is easier to purchase there, too. "Houston is a great place to purchase a home and many factors make Houston attractive for homeowners, such as no state income tax, a warm climate, favorable conditions to start a business, and lower cost of living than other major cities," explains Katie Day a real estate agent at Coldwell Banker Realty in Houston. "We have a lot of new construction homes throughout the city and suburbs. Many builders build affordable homes (especially in the suburbs, or just outside of Downtown) that are great for first time home buyers."
10. Honolulu, Hawaii
While Honolulu, Hawaii might not be the most affordable location on Realtor.com's list — the average median list price is $655,050 — a solid amount of available housing for purchase certainly makes it easier to buy a home there. "One factor that makes home buying easier in Honolulu is the sufficient inventory within buyer criteria, but not excessive inventory where there is too much to see," says Kalama Kim, Principal Broker at Coldwell Banker Pacific Properties in Kapolei, Hawaii. "A multitude of new construction homes also are available, allowing buyers to purchase these new homes through a streamlined process which eliminates many of the inspections and steps used for re-sale transactions. In addition, many neighborhoods throughout the island are eligible for zero down payment loan programs through the USDA."