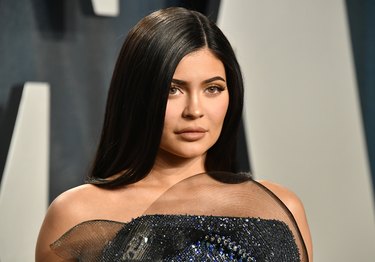 In today's dreamy spaces that we probably wouldn't know what to do with, Kylie Jenner reportedly just bought a property that we're trying to wrap our heads around. According to Harper's Bazaar, the celebrity recently purchased a $36.5 million home in Holmby Hills, California that sits at a little over 19,000 square feet.
The seven-bedroom, 14-bathroom (!) property is, of course, quite glam.
The interior features a number of drooping statement chandeliers; a herringbone hardwood floor; an outdoor project screen; various bar areas; and a huge pool. Oh, and it's also got two guest apartments and 20 parking spaces.
We also see lots of curving furniture, an insta-worth marble countertop with two sinks, and plenty of fireplaces.
It looks like an ideal space for when we can all finally spend more time outside of home. For now, we'll continue to virtually crush (although, we still don't know how we'd use that many bathrooms?) on this ridiculously lavish listing.