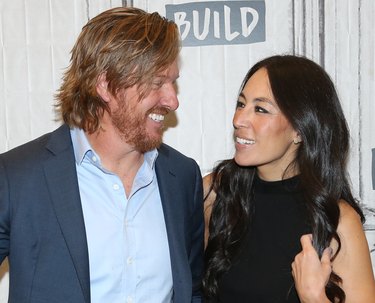 Need some more Chip and Jo Gaines in your life? The farmhouse stars totally get that, which is why they recently shared updates on their upcoming Magnolia Network.
According to Variety, the network's official October launch date has been postponed to a later date (currently TBD). In the meantime, the dynamic lifestyle duo wanted to offer a peek at what's to come. On Sunday, they made an appearance on DIY Network to chat about the future of the network.
According to House Beautiful, we can expect new shows like Family Dinner, hosted by chef and James Beard award winner Andrew Zimmern; Bespoke Kitchens, featuring the talented team at deVOL kitchens creating super chic cookspaces; The Fieldhouse, which highlights a fitness center owned by former NFL player Justin Bane and his wife; and Growing Floret, which we mentioned previously, a look at the sustainably-run Floret Flower Farm.
In a video on their new Magnolia Network Instagram account, you can catch glimpses of all these upcoming series — including Jo doing a cooking show and sitting down to dinner with Chip and their friends.
It'll be a while before this all airs, so for now fans will have to work with these sneak peeks.
---
Eva is a Los Angeles-based writer who covers trends, news, and makers for Hunker. Her writing has been featured in the Los Angeles Times, The Guardian, Bustle, KCET and more. She is a proud bookworm and organizes her books by color.