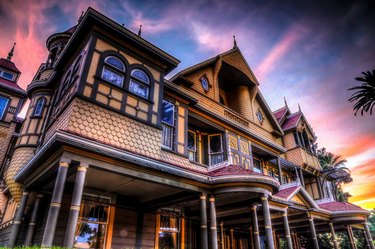 Looking for an escape from current events? Maybe it's time to make things a little more spooky.
For the first time ever, the Winchester Mystery House in San Jose, California is offering an immersive 360-degree virtual tour for fans of the landmark. The home of Sarah Lockwood Pardee Winchester, widow of William Wirt Winchester, the house is known for rumors that Sarah Winchester added meandering pathways to trick ghosts. She was the heiress of the Winchester Repeating Arms assets, so many people believe she probably carried the guilt of people's death by the gun.
What started as an eight-room farmhouse eventually morphed into a 160-room landmark with endless twists and turns (it has 2,000 doors, for example, some of which lead to nowhere). The construction seemed to never end. It's a popular attraction for fans of ghost stories and unusual architecture.
You can now experience it right from home in a virtual choose-your-own-adventure. The site explains that virtual tourists can move throughout all the nooks and crannies of the structure, "from the basement to the rarely seen fourth floor."
The virtual ticket to this creepy experience costs $8.99. You can learn more about the spooky at-home experience here.
---
Eva is a Los Angeles-based writer who covers trends, news, and makers for Hunker. Her writing has been featured in the Los Angeles Times, The Guardian, Bustle, KCET and more. She is a proud bookworm and organizes her books by color.