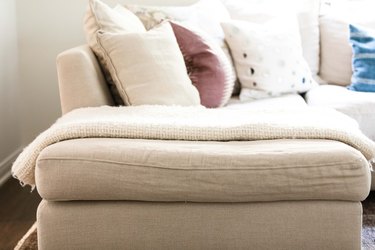 Squeaky is all about the borderline genius hacks and ideas that keep literally every inch of your space pristine.
Typically, your couch should be cleaned and disinfected twice a year, but if you have small children and pets, it is better to clean and disinfect them every three to four months. It's also a good idea to disinfect a couch immediately if it has come in contact with someone who is sick or if any bodily fluids have gotten on the couch. Whether you have a fabric or leather couch, here's what to do ...
NOTE: Before disinfecting your couch, check the manufacturer's label to make sure that it doesn't require a special cleaning method or solution.
How to Clean a Fabric Covered Couch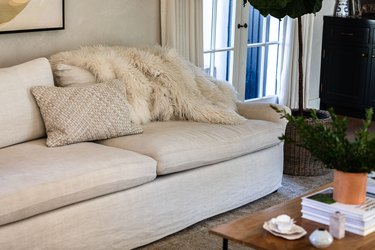 Things You'll Need
2 cups of warm water

1/3 cup of distilled white vinegar

1 tablespoon of Castile soap or mild detergent

Clean spray bottle

Soft bristled brush
Step 1
First, mix together the cleaning solution, and then vacuum the entire couch, including under the cushions.
Step 2
Wash and dry any removable covers in your washing machine. Be sure to follow the manufacturer's directions as instructed.
Step 3
Lightly spray the surface of the couch. This works best if you work in smaller areas, like one cushion at a time or one arm at a time. Do not over-saturate the fabric.
Step 4
Use a soft brush to work the cleaning solution into the fabric. Blot any over-saturated areas with a soft, clean cloth.
Step 5
There is no need to rinse the couch. Allow it to air dry. Any smell of vinegar will dissipate as the fabric dries.
How to Disinfect a Leather Couch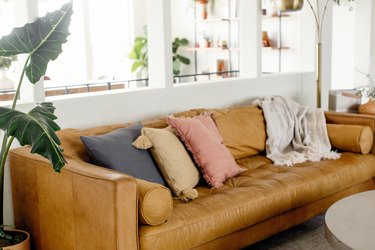 Step 1
Vacuum the couch thoroughly. Be sure to remove any cushions and vacuum underneath them as well.
Step 2
Mix a solution of equal parts water and distilled white vinegar. This works best if you mix the solution in a clean, spray bottle.
Step 3
Spray a soft, clean cloth with the vinegar mixture. Do not over-saturate the cloth or use a wet cloth for this step.
Step 4
Lightly wipe the vinegar mixture from the couch using a circular motion, making sure that you are wiping away any moisture as you go.
NOTE: Do not allow water or any cleaning solution to pool on leather or over-saturate the leather. This could damage the leather and cause water stains.
Step 5
Dry any wet spots using a dry, clean cloth immediately.