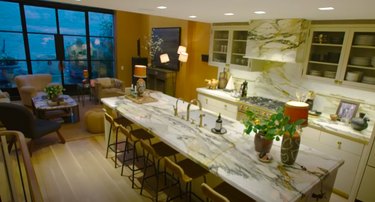 Nate Berkus and Jeremiah Brent are basically the cool couple you know to call when you need design advice. They also happen to be the power duo that has launched collections with Living Spaces and Pottery Barn, nbd.
So what a treat it is to peak into their new NYC townhouse to see how they translate their eye for all things chic into their personal space. Spoiler alert: it's pretty freaking cool.
Take for instance, this ceiling height bookshelf with a glass railing and glass bridge that reminds us of that scene in Beauty and the Beast where Belle is in the town bookstore.
The couple also cleverly set up the kitchen to flow directly into a TV and entertaining area. And this long marble kitchen island is a stunner. Brent worked with Van Cronenburg to create the custom faucet, which is basically now his pride and joy.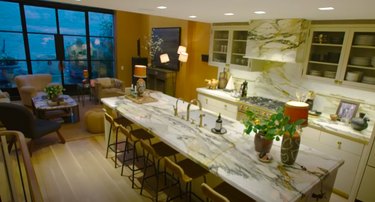 Can we also talk about Poppy's room? The couple let her make her own design choices, down to the pink carpet and wallpaper pattern — which obviously veer from the couple's usual aesthetic.
"Having children, it's really given us an opportunity to experiment with color in a way that neither one of us ever did before," Brent says in the video. (To which Berkus responds: "Now that is the god's honest truth").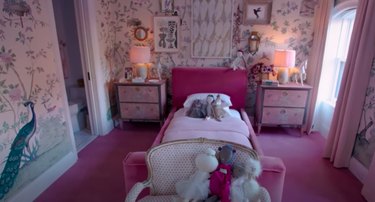 Oskar's room also uses a whimsical wallpaper but is more understated. The couple installed rods in an armoire to create his adorable closet.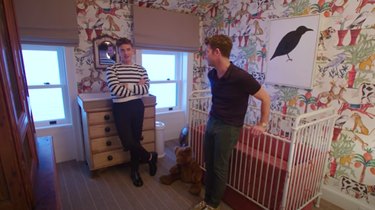 And we've got to give a shout-out to this fireplace which actually hides the TV.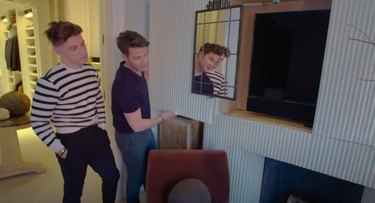 For now, we're dreaming of our own giant bookshelf.