Are you part of the Lush bath bomb cult? The beauty retailer is known for their bath bombs that come in wildly creative shapes and scents that can turn your bathroom into something that, yes, might look a little crazy, but is undeniably fun. I mean, who wouldn't want a dinosaur-shaped, green-tea-peppermint-scented bath bomb decorating a countertop? (I think?)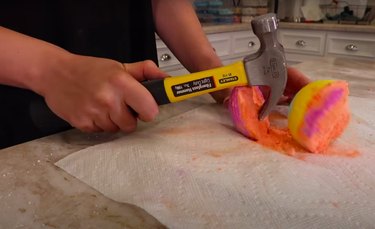 She first split up the 46 different bath bombs from Lush into nine color categories.
Break down each color in a food processor.
Form into a new bath bomb with a pro-grade bath bomb press.
To be clear, she's trying to make one normal-sized bath bomb that contains all the "flavors" — not a giant one.
The end result? You'll have to watch the video to find out more, but we will say that the franken-bomb will turn your bathwater a decidedly swamp-like green. Fun?
---
Leonora Epstein is Hunker's Senior Director of Content. She has previously served as Executive Editor at HelloGiggles and as BuzzFeed's Deputy Editorial Director. She is the co-author of "X vs. Y: A Culture War, a Love Story" (Abrams, 2014). Feel free to reach out at leonora@hunker.com.