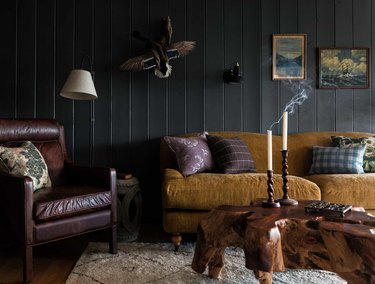 Basements get such a bad rap design-wise. They tend to lack natural light, and they become the designated spot for clutter. But if you do choose to relocate the media room, at-home gym center, or play area to the ground level, don't neglect decor. A few good basement wall ideas can make the space super cozy.
With bold paint colors, print-happy wallpaper and art that's good enough to go in a family room, your basement will go from bland to beautiful. Project Make Your Basement Less Sad starts now.
Read on for eight basement wall ideas that will add some life to the darkest spot of your house.
1. Install a basement bar wall.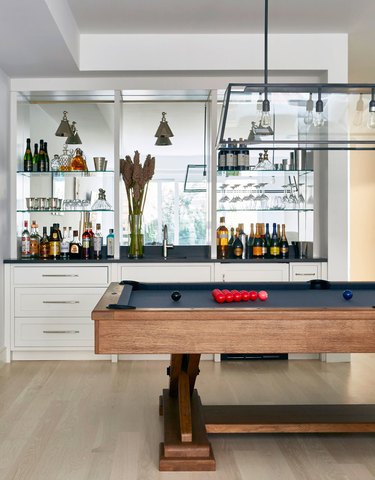 Every hour is happy hour in a basement bar, and you don't even need a rolling cart to make it happen! Open up your space, like Chango & Co. did in this basement, with the help of a mirrored wall. Then stock a few shelves with drinking accessories. Devote the bottom shelf to the everyday essentials, and reserve the top storage level for the special occasion libations.
2. Add life with botanical art.
Generally lack-luster in the natural light department, basements don't exactly create an ideal houseplant environment. But preserved botanical art can inject a little life into a dim space. Trim leaves from your favorite plants or collect fallen foliage. Then flatten them beneath a pile of heavy books. Frame the finished product, and now you can enjoy the beauty of the outdoors year-round.
3. Showcase a standout art piece.
What are you going to do with a huge piece of art that deserves its own wall? Make it a feature in your basement. A showstopping graphic piece (that's even better if you DIY it) will make the rest of the decorating process easy. Use a rich gray paint and install great lighting to make the space feel like an inviting living room.
4. Carve out a craft corner.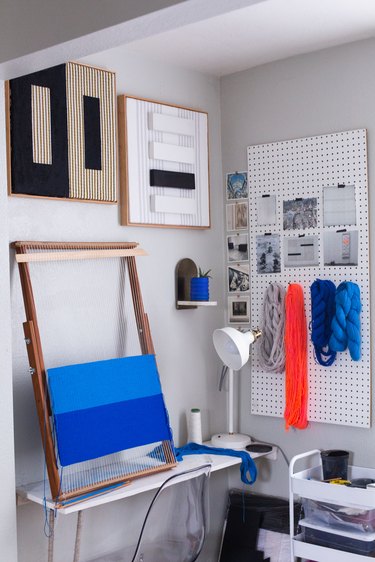 Many people are spending a lot of time in the house these days, so why not turn your basement into a home office with a minimalist desk that doubles as a craft station? Make the best use of your basement walls by hanging your crafting tools on a stylish and utilitarian pegboard.
5. Embrace dark basement walls.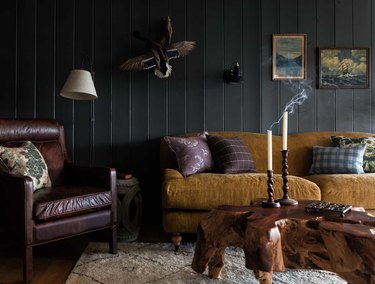 Picture it: You're reading in a plush accent chair, warming your feet in front of a roaring fireplace, next to a mound of wood that someone else chopped down. Are you in heaven or in a space like this one from Seattle-based designer Heidi Caillier? Choose a sultry black paint in your own basement to really capitalize on the cozy vibes. Not all basements have to focus on creating more light.
6. When in doubt, hang a gallery wall.
Think of a gallery wall as the little black dress of the design world. It almost always works. If you're stumped on how to decorate your basement walls, just mat and frame your favorite art. Mix items like vintage family photographs, portrait paintings, and kids' artwork. Hang the installation above a well-styled bookcase or console with a modern lamp, and you're done.