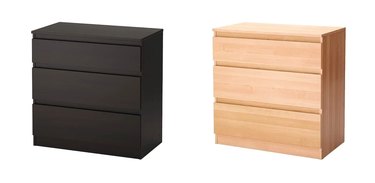 You've likely heard about the IKEA news surrounding dresser recalls due to the deaths of children from the furniture tipping over. Most recently, the Swedish retailer also issued a recall on a three-drawer chest "due to potential tip-over and entrapment hazards."
The warning applies to the Kullen three-drawer dresser — but specifically to pieces that haven't been "properly anchored." Shoppers in the U.S. and Canada can go to a store IRL or visit this webpage to request a refund or a wall attachment kit. If you choose to return it for a refund, IKEA will drop by your house to pick it up for free.
According to the retailer, so far there haven't been any "serious injuries involving the Kullen 3-drawer chest." And it also emphasizes that "it is safe to use if attached to the wall" as directed in the instructions.
Find out more about the recall here.