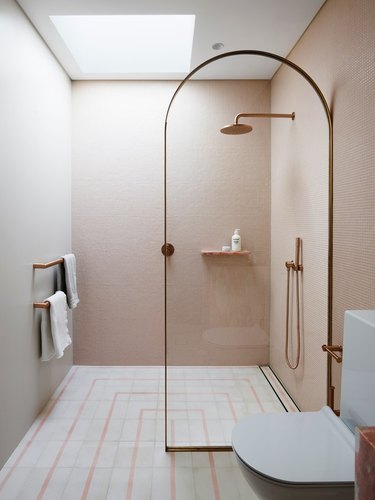 What is it about toiletries? Why do we all have so many? And why are there never enough shower storage ideas to hide all the stuff? Anyone with a small bathroom (or just a love of hygiene products) is fully aware of the issues that a penchant for shower gel can present.
Trust us. Here are 12 shower storage ideas that will keep your Aesop addiction looking neat.
1. Just add shelves.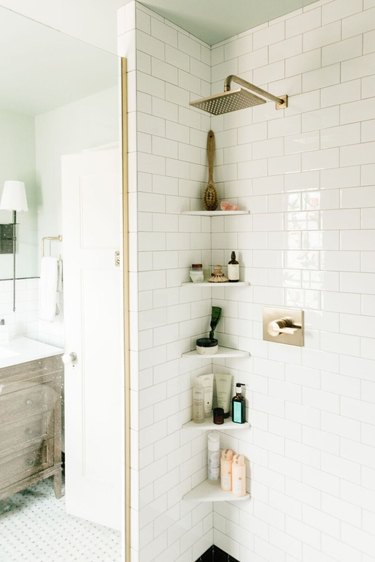 Hey, it's this easy — just add shelves like Wit and Delight did. The corner shelves are tucked right into the subway tile and can't be seen from the outside. So the main bathroom looks minimal and tidy. Plus, they can hold everything from shampoo to shaving gel.
2. Consider a wall niche.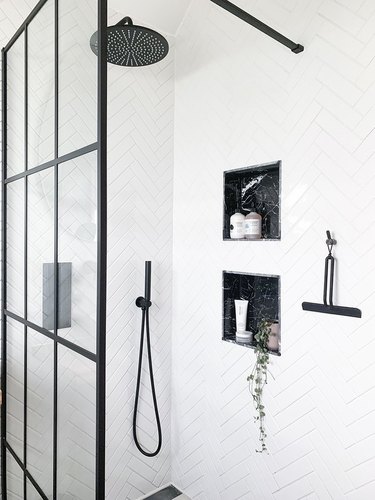 Wall niches in showers have grown in popularity over recent years thanks to their stylish but functional nature. We have major envy for this Lust Living monochrome wet room. It has a great shower storage idea with not one, but two marble wall niches to house toiletries and cute plants.
3. Use the entire wall.
Take your wall niche or cubby to the next level by using the entirety of the shower wall. This contemporary bathroom from Devon Grace Interiors totally disguises the bathroom essentials. Graphic black and white accent tiles create an optical illusion. And the wood double vanity adds a ton of warmth.
4. Add in seating, too.
A shower bench can easily double as a place to store all of your wash products — as if you needed another reason to be convinced of a sit-down shower. So consider this option when it comes to renovating. The glass and marble shower enclosure from Mandarina Studio features a floating marble seat with another shower niche for good measure.
5. Keep it minimal.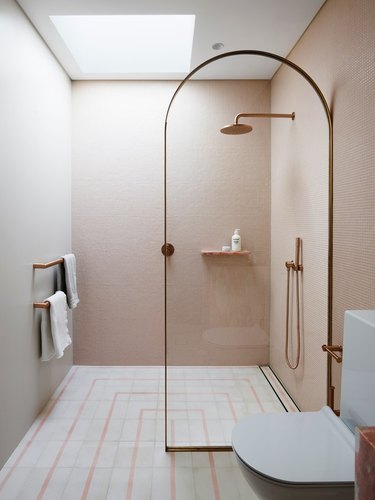 If you're pretty minimal in your approach to interiors (and toiletries), a simple floating shelf will do just the trick to hold your most important items. Australian firm Decus Interiors opted for a coordinating rose-colored shelf in this pink and white bathroom. And two towel rails keep linen close.
6. Try a built-in ledge.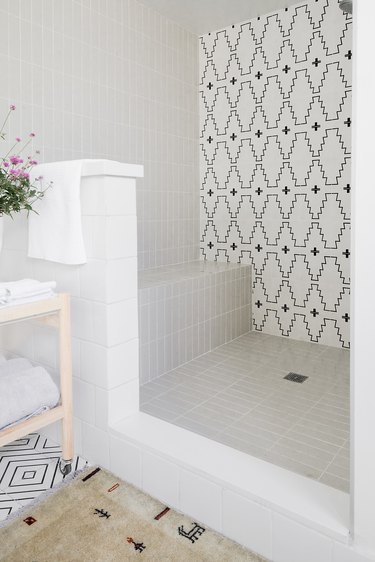 Getting ready for a small bathroom revamp? Perhaps it's time to think about making a faux half wall and ledge part of your plans. This bathroom designed by Veneer Designs features both. Consequently, there is so much space for towels and scrubbing brushes. We also dig the combo of gray and patterned tile.
7. Make it a design feature.
Integrated storage will keep your small shower so much more organized and maintain a sleek aesthetic. You don't always need to hide the organization, though! This shower has tons of character thanks to a large marble slab inlay that houses all the modern shower fixtures. There's even room for your luxe soaps.
8. Opt for a shower caddy.
A simple shower caddy is one of the easiest shower storage ideas around. And this Umbra Cubico style in Pia's marble shower is sleek and modern. It's the perfect update to a rental property or a bathroom revamp on a budget.
9. Make the most of every inch.
You don't need to stop at one storage solution in your walk-in shower; make the most of every inch. This super-luxe but small shower by Pure Salt Interiors makes use of storage alcoves and a marble-style ledge for some extra surface space.
10. Double up on function.
A footstool is an ideal open shower companion if you want to add a little extra function to your morning scrub. This wooden number in Collective Gen's bathroom adds texture and color to the white tiles.
11. Try multiple shower storage ideas!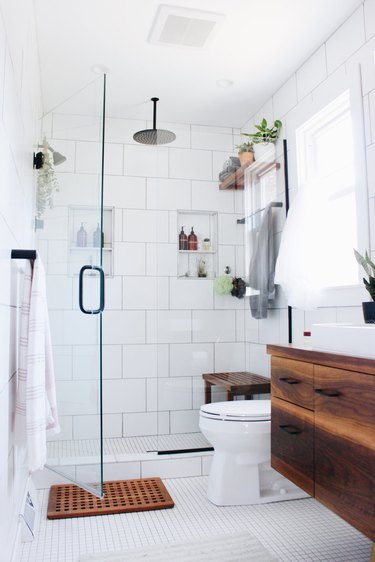 The folks at Northern Estates Reno got the shower storage memo with this small monochromatic shower situation. We can spot wall nooks, a towel rail, shelving, and a shower seat in just one glance. And the feng shui looks spot on.
12. Get clever with your layout.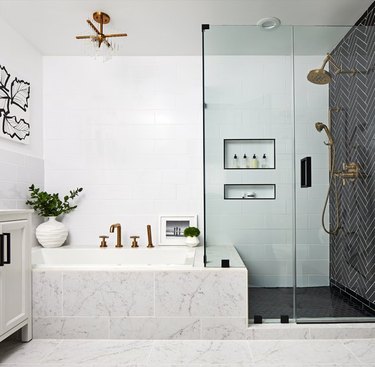 Stuck for space in your master bathroom? Make the most of square footage with a connected bathtub that also acts as a ledge or seating option in your shower. Sallie from GreyHunt Interiors finished hers off with two wall niches for extra space.