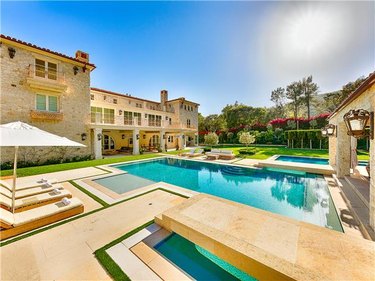 We previously brought you a missive from the land of "where will Prince Harry and Meghan Markle go next?" that had us peeking into a Canadian mansion. But now the latest news is all about the States. Vogue reports that there's some buzz about a mansion in sunny Malibu — and how it might be in the couple's future.
It's all mostly hearsay so far, but that doesn't stop us from virtually touring the space and about how the couple could turn it into a classy, timeless space fit for royalty. First off, there are eight bedrooms inside — plenty of space to play with design possibilities.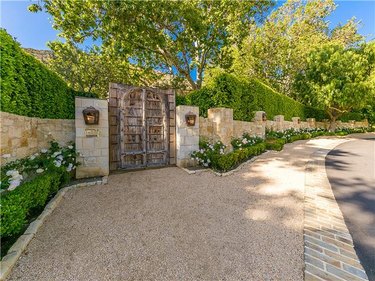 The Petra Manor, as it's cleverly called, has 10 bathrooms and a dance studio. There's also a walk-in refrigerator, nbd. It sits behind a gated entrance, naturally. It's currently listed on Luxury Home Rentals as available for the small price of $15,950 a night for up to 16 guests.
What else is inside? For starters, a giant sectional sofa in the theater room, and enough room for the couple's fam to come visit.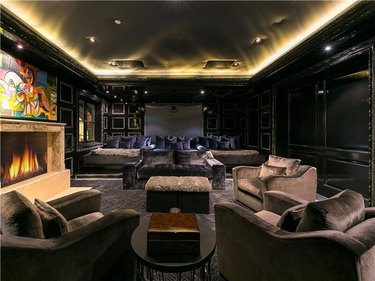 And of course, a space for the couple to have a drink and escape from it all, momentarily. Although, we're not sure those patterned stools are really their vibe.
A bathroom with some, um, eye-catching wallpaper pattern.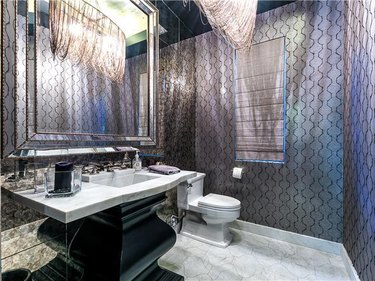 We figure that if the couple does move in, the luxurious home will change to fit their family needs. In the meantime, we're here to help if they need any decor ideas.