Everyone deserves to see themselves in a washroom illuminated by trending bathroom lighting. Whether you're brushing your pearly whites in the a.m. or filling the tub to end the day, you probably do these routines in the bathroom. Accordingly, your master bath lighting should be able to transition from sharp and focused to subdued and relaxing. It should contribute to good feng shui.
So from pendants and sconces to string lights and chandeliers, we compiled 10 trending bathroom lighting ideas to inspire your powder room redo. Scroll on for stylish fixtures that are worth the investment.
1. Go long — oblong.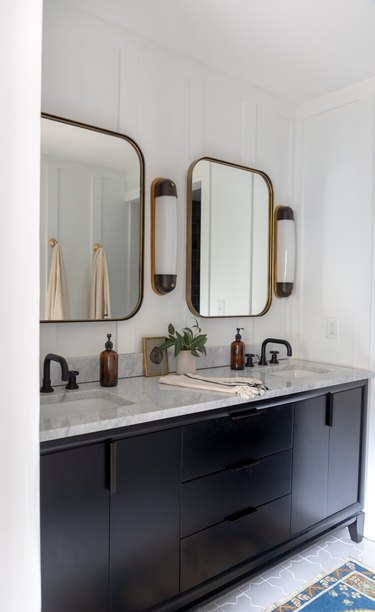 Don't be afraid to go for trending bathroom lighting in odd shapes, like these ultra-cool, oblong sconces from a House Seven Interiors project. If the rest of your bathroom accents are classic, you have wiggle room to choose interesting lighting. Just don't be surprised if guests ask to use your restroom more often just to stare at the modern decor.
2. Free up wall space by hanging pendants.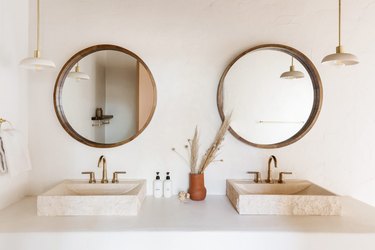 Hanging two pendants — like the ones in this desert oasis setup from The Joshua Tree — on the outer edges of a double vanity has two primary rewards. The stylistic decision adds architectural interest with sleek symmetry. And it frees up more wall space, as if you needed an excuse to spring for bigger mirrors. In this scenario, bigger does equal better.
3. A chandelier never hurt anybody.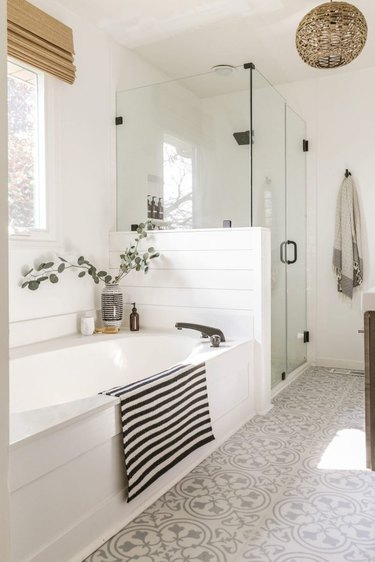 Woven chandeliers are having a moment. Erica Van Slyke of Designing Vibes remodeled her white master bathroom with this earthy, textured lighting fixture as the star of the room. While vanity sconces offer focused light to help you see any mascara flakes gone awry, a chandelier like this one diffuses soft light throughout the room for a more chill vibe.
4. Be bold with bits of gold.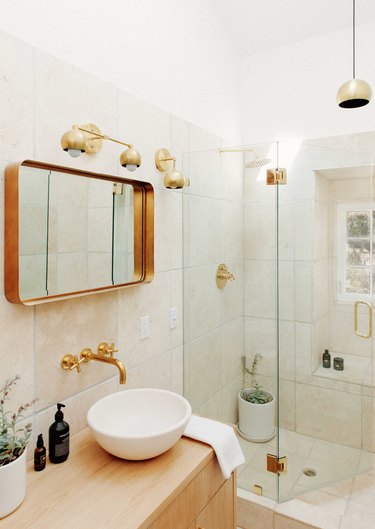 You might think gold accessories belong in a Vatican bathroom. But when applied strategically, the metallic touches won't be too flashy. Take this bathroom — it has all sorts of gold accessories, including the sconces, bath fittings, and faucet. The key, though, is to keep all the items fairly small and in matching shades of brass.
5. Embrace retro.
Is your bathroom a survivor of the '50s or '60s with remnants of not-so-subtle pink or teal ceramic tile? Whether you're living in a rental that's due for an update or you can't finance a renovation, you may as well commit to the retro look. Vintage-style sconces, like this pair of mixed metal beauties, give a nod to the bathrooms of decades past. However, they can also be repurposed in a more modern space to add character.
6. The more ornate, the better.
We're sure Marie Antoinette would have loved this luxe marble and mauve bathroom from design star Heidi Caillier. Whether antique or just antique-looking, ornate gold sconces add an elegance to any colorful bathroom. But remember: If your bathroom lighting fixture is truly vintage, consider hiring a professional to do the electrical wiring.
7. When in doubt, white globes will work.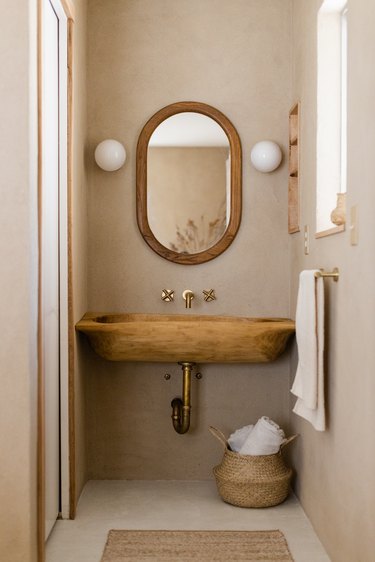 If lighting isn't the design focus of your bathroom, go with never-out-of-style opaque white globes on either side of the mirror. This airstream-turned-house, for example, really nailed the look. The rustic wooden sink and beautiful brass hardware steal the attention. And we love the balance. You can even highlight the simple fixtures with other white accents like towels.
8. Add architectural appeal.
If every other aspect of your bathroom design is sleek and sophisticated, you have permission to get a little wild with the lighting choice even in a small space. It will create a main focal point. The architectural playfulness of this particular fixture complements the industrial black accents around the entire room without being overwhelming. You could even DIY a similar style.
9. Don't forget about the tub.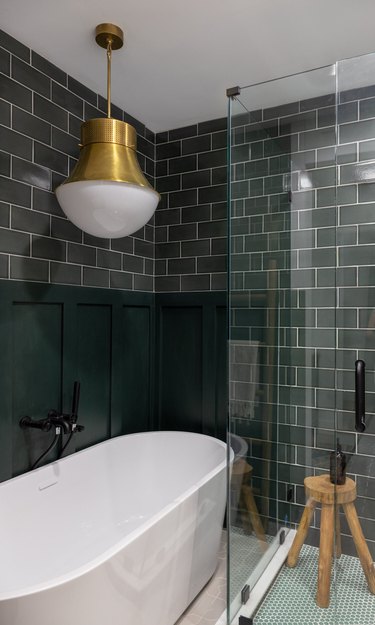 Sure, lighting near the vanity is super important. It helps you check if there's anything nefarious in your teeth — which is a must. But to create an ultra-cozy bathroom situation, place a vintage pendant above your tub like the one from this rich green House Seven Interiors design. We're dreaming of drawing a bath and soaking with candles and trashy magazines already.
10. String lights aren't just for Christmas.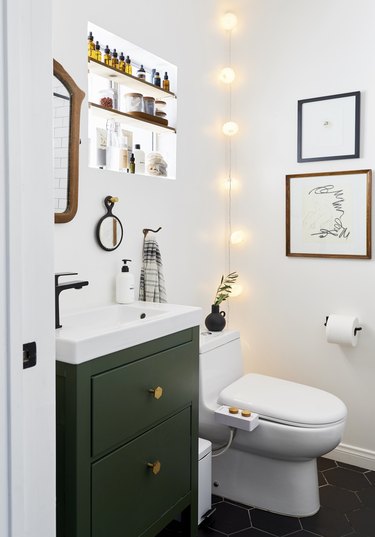 When incorporated in the right space, globe string lights can add a little bohemian warmth to your washroom. We especially dig this installation from Emily Bowser's space. They look so effortless. Pin yours in a corner so they appear modern and intentional. And keep them on a dimmer to achieve the ideal amount of glow no matter the time of day.