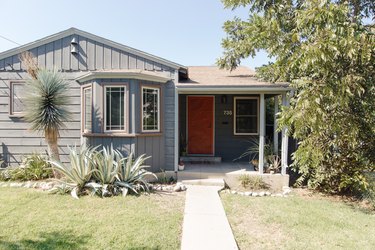 You know what's a great gift for your loved one? Not thinking about buying or selling your home. A new survey by Zillow and The Harris Poll shows that 77% of Americans argue with their partners during the home buying process, and 71% of Americans argue with them during the home selling process.
Perhaps unsurprisingly, a high percentage of survey participants — 69%, to be exact — reported squabbling over financial decisions, from choosing a list price to accepting an offer. Other hot topics for quibbles include disagreements over what size or style of home to buy (54%), where to buy (42%), and whether or not they want a move-in ready home or a fixer upper (29%).
Apparently, younger sellers are more likely to argue with their significant others than older ones — 85% of sellers aged 25 to 39 reported fighting, while only 54% of sellers aged 55-plus reported the same. Older sellers have likely gone through the process at least once before, so this could suggest that more experience selling a home leads to less trouble in paradise.
Word to the wise though: Zillow also reported that more 36% of Americans have cried when selling a home, with many finding the process more stressful than planning a wedding or getting fired. So just remember — you're in this together.
---
Stefanie is a New York–based writer and editor. She has served on the editorial staffs of Architectural Digest, ARTnews, and Oyster.com, a TripAdvisor company, before setting out on her own as a freelancer. Her beats include architecture, design, art, travel, science, and history, and her words have appeared in Architectural Digest, Condé Nast Traveler, Popular Science, Mental Floss, Galerie, Jetsetter, and History.com, among others. In another life, she'd be a real estate broker since she loves searching for apartments and homes.