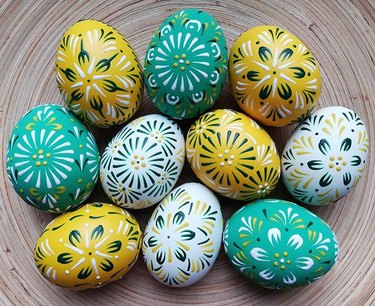 With every Easter season comes one of the best arts-and-crafts traditions of all time — decorating Easter eggs. While many of us stick to the standard dip-dyed hard boiled eggs (maybe with a bit of a white-crayon resist, if we're feeling a little bit fancy!), there are actual Easter egg artisans out there doing pretty dang incredible stuff with the humble egg.
This year, we're already seeing some beautiful eggs make their way around Instagram, and we've noticed one big trend among them. Apparently, grandma chic is in, from old-school floral patterns to crochet! Check out some of the egg decorating styles we've found below. Do you love them or hate them?
1. Hand-painted florals
Who needs a canvas when you have an egg?
2. Watercolor-style florals
Watercolor markers should be a go-to for Easter egg decorating.
3. Crochet
Does it get more grandma-chic than crocheted Easter eggs?
4. Blue-and-white florals
We're diggin' the porcelain vibes.
5. Old School motifs
These eggs edge on the side of avant-garde, but they're still rooted in grandma-chic motifs, like fruit and butterflies!
6. Paisley-esque
Metallic earth tones give these paisley-esque patterns some edge.
7. Floral resists
There it is — the white-crayon resist we all know and love! Complete with a grandma-chic floral drawing.
8. Embroidery-style patterns
These textured patterns have embroidery vibes.
9. French Romanticism
Was this egg laid by a bird or Marie Antoinette?