Some 20 years ago, Aaron Paul was just a kid who played a punky high schooler on an episode of The X-Files. Some 10 years ago, Aaron Paul was just a young adult playing a punky drug dealer on Breaking Bad. And now? Aaron Paul and his family are homeowners of one of the most majestic log cabins we've ever seen. (And yes, there's still a tiny bit of an edgy side.)
1. It was crafted from wood taken from old Amish barns in Wisconsin.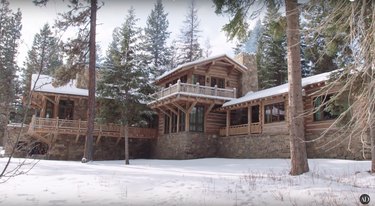 No big deal! They found three of them — "and then we just shipped out the barns," says Paul.
2. All the stone is super heavy Montana Moss.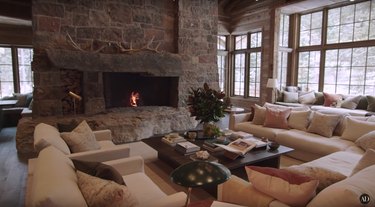 The airy room with a massive fire place is clearly the centerpiece of the home. But let's talk about the stone. "This thing had to be craned before the ceiling was put on it," Paul says. "It weights 26,600 pounds."
The only crane we've seen recently is the one near the construction site that wakes us up early in the morning.
3. Their fancy bathroom has some awesome glass doors.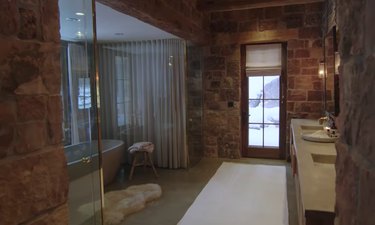 Besides the heated floors, this classy bathroom also includes huge glass doors for the relaxing tub — a casual suggestion from the designer.
4. It has a sauna fit for escaping from the world.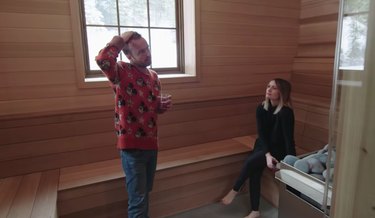 "This wood all came from a tree that we dragged from the bottom of one of the local lakes," Paul says. Need we say more?
5. And, last but not least, a home bar called the Raven's Den.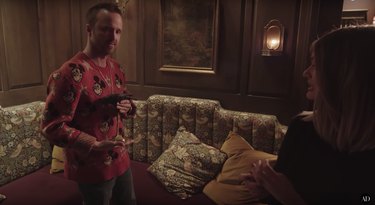 The game room/movie theater/whiskey bar nicknamed the Raven's Den is equipped with William Morris patterns and two beers on tap ("a dark beer and an IPA," Paul says). When will we ever be able to see such luxury again? Quoth the raven: nevermore.
The Pauls tapped Pearson Design Group from Bozeman, Montana, to build the house, with LA-based designer Jake Arnold working on the interiors. "I poured my heart and soul into this thing, as did Jake Arnold and Pearson," Paul tells AD. "I was pulling my hair out a lot during the process, but living in a place that you built is a dream come true."
If only we had the budget to make our home dreams come true, too.
---
Stefanie is a New York–based writer and editor. She has served on the editorial staffs of Architectural Digest, ARTnews, and Oyster.com, a TripAdvisor company, before setting out on her own as a freelancer. Her beats include architecture, design, art, travel, science, and history, and her words have appeared in Architectural Digest, Condé Nast Traveler, Popular Science, Mental Floss, Galerie, Jetsetter, and History.com, among others. In another life, she'd be a real estate broker since she loves searching for apartments and homes.
View Work