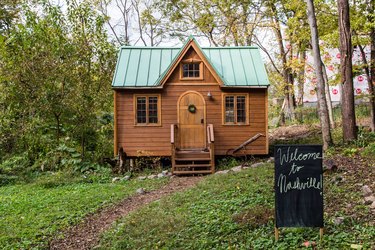 It's official: 2020 will be the year of sustainable travel, thanks to activists like Greta Thunberg, who chose to sail across the Atlantic rather than fly in order to curb her carbon footprint last year. While we might not all be able to make such drastic changes in our travel habits, there are a number of ways we can travel more sustainably.
According to Airbnb, which just released a new travel trends report, quite a few travelers are seeking tiny-house stays, oftentimes within driving distance of their own homes. Compared to last year, Airbnb searches for listings with free parking have risen 46%, searches for "shepherd's huts" have increased by 112%, and searches for "tiny houses" have gone up by 85%.
These tiny houses often promote eco-friendly and efficient living through the use of everything from solar energy for power to composting toilets. Plus, given their small footprints, they're frequently found in beautiful natural locations — far away from the major hotel chains in cities and towns.
Check out some of Airbnb's top listings for shepherd's huts and tiny houses below, and get ready to be inspired to book your own tiny living weekend getaway.
Inspired by the design of an airship, this eco-friendly hut starting at $194 per night is crafted from insulated aluminum and is heated by a wood stove.
This adorable vacation rental, starting at $84 a night, was designed and built by its owners, who used repurposed materials like vintage cabinets.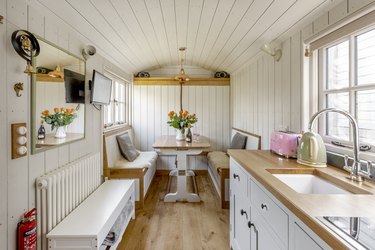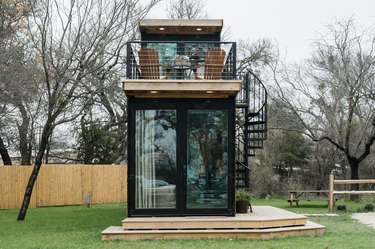 This duplex tiny house was built from two repurposed shipping containers. You can stay in it starting at $99 a night (and it's close to Magnolia Market, nbd).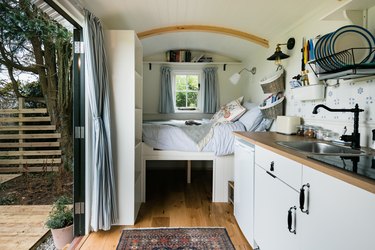 Embrace indoor-outdoor living in this adorable tiny house, from $39 a night. It even has a wood burning stove!
---
Stefanie is a New York–based writer and editor. She has served on the editorial staffs of Architectural Digest, ARTnews, and Oyster.com, a TripAdvisor company, before setting out on her own as a freelancer. Her beats include architecture, design, art, travel, science, and history, and her words have appeared in Architectural Digest, Condé Nast Traveler, Popular Science, Mental Floss, Galerie, Jetsetter, and History.com, among others. In another life, she'd be a real estate broker since she loves searching for apartments and homes.