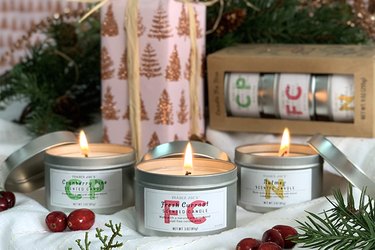 If you've ever shopped at Trader Joe's, you've probably picked up two cult-favorites at one point: Everything But The Bagel Seasoning Blend and the Dark Chocolate Peanut Butter Cups. But there's a new item rising the ranks of Trader Joe's icons: their seasonal scented candles.
The grocery store just released its annual Customer Choice Awards. Naturally, both the seasoning blend and the peanut butter cups made the list, but it's TJ's scented candles that caught our attention. They've been named the top choice in the home, bath, and beauty category, with runners up including Rose Water Facial Toner, Coconut Body Butter, Shea Butter & Coconut Oil Hair Mask, and Ultra Hydrating Gel Moisturizer.
TJ's changes out its scents with the seasons, so you might find a vanilla pumpkin candle in the fall, cranberry pine in the winter, peony blossom in the spring, and mango tangerine in the summer.
While the candles are available in-store year round, you can actually order them secondhand on Amazon — which is great if you don't have a store near you, or if you want to purchase a scent you missed last season. But the bad news is that they're sold at a ridiculously high price: They're normally $3.99 at TJ's but can cost $12 or more on Amazon.
Bottom line: Get to a TJ's STAT to purchase the latest candles, and buy plenty of backups of your favorite scents while they're in stock!