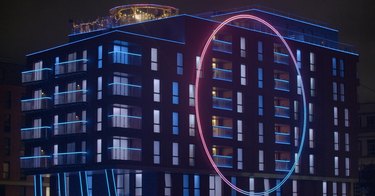 The Circle, Netflix's new reality show based on the UK show of the same name, was just released at the beginning of the year and viewers already can't get enough — not just of the contestants, but also the mysterious apartment building they live in.
The show, in which contestants are shut off in individual apartments from one another and are only allowed to communicate with each other via an app by the same name is a very modern take on the reality show format. The contestants are able to present the most likable version of themselves to each other, or even a different personality altogether. The group then votes on the most likable person in The Circle, who becomes the group's "influencer" and may then vote one member out.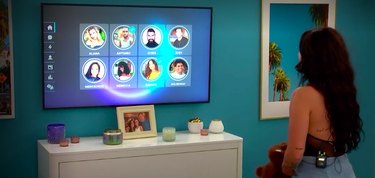 So where is this mysterious apartment building? The Circle house is actually located in Salford, an area of Manchester, England, and is the same house where the UK, French, and Brazilian editions of the show were filmed. Producers added footage of cities like Chicago and Milwaukee to appear as though the show is taking place in America. Detail-oriented viewers might've noticed a couple of giveaways, like when a contestant packages up food with cling film from Tesco or the fact that the outlets have switches near them.
Footage of drivers in the UK was also flipped and used to appear as if they were driving in the U.S. In a show where you are allowed to present yourself as someone you aren't, this deceptive practice seems quite on brand. Astute Redditors were able to spot the similarities between the different versions as well where all of the extra footage was from. You can view the entire thread on Reddit here to see just exactly what was added to make the show seem more "American." The Circle is streaming now if you're curious about the building's antics.
---
Laura is a New York City-based freelance writer who writes about travel, food, and design. Her work has appeared in Architectural Digest, Bon Appétit, GQ, Condé Nast Traveler, and more. She's a sucker for a good curbside furniture find.