Queer Eye fashion expert Tan France convinced us to try a French tuck and roll up our sleeves more often. But it turns out he's also got a great eye for interior design.
In a recent home tour for Architectural Digest, France shares that he didn't, in fact, ask co-star Bobby Berk for his help. He infused the house, built in 1906, with his personality by choosing vintage items, setting up a dinner table big enough for 10 people, and finding the perfect oven for his love of baking and cooking.
But the part we love the most about the house almost didn't make it into the video tour. "I didn't even think I was going to show you this," France says. But I am going to show you this." Behold: his much-loved candle closet.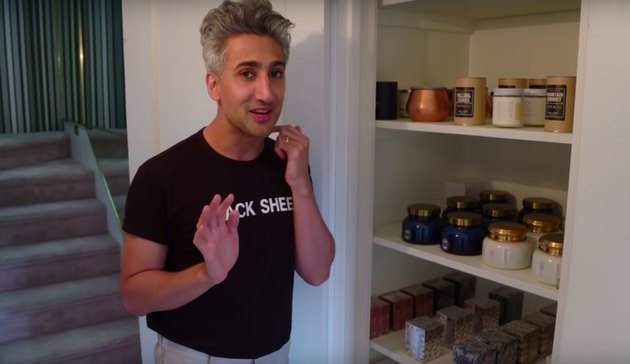 You can see rows of candles in all sizes and colors (and France says it's usually fuller). It's a dream come true for anyone who loves walking into home decor stores and heading straight for the candle section.
"If I'm in a bad mood — which is very rare — my husband knows where I am," France says. "I'm usually just here, sniffing in the closet.
Sound familiar? Jan from The Office would totally relate. In the classic dinner party episode, she says: "When I get frustrated or irritated or angry, I come up here and just smell all my candles."
Obviously, France's candle is much classier and he know his candles. His clothing closet might be the length of the house (he worked with a designer for that part of the house), but his heart is really in the candle closet. We totally get it.
---
Eva Recinos is an associate editor at Hunker. You can reach her at eva@hunker.com

View Work