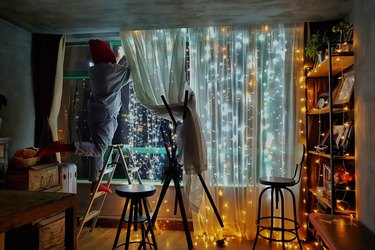 Step aside, millennial Instagram influencers. Gen Z's VSCO girls are coming to town. There's an entire movement dedicated to young social media mavens on the VSCO app (previously known as VSCO Cam) who have an everlasting love for very specific items that complete their aesthetic, including Hydro Flasks, scrunchies, Fjallraven backpacks, Birkenstocks, Crocs (even worn with socks!), and Burt's Bees lip balm.
While they're primarily sharing their looks on the VSCO app itself, it turns out they're also big fans of Pinterest. In a report on 2020 trends, the mood board-style social media site notes mind-boggling increases in searches for VSCO-related keywords. Case in point:
Hair scrunchies: 6,309%
VSCO stickers: 4,001%
VSCO things: 1,705%
VSCO room ideas: 6,503%
It's all about staging the right background for selfies.
There's also another social media trend that you might not find on the Pinterest inspiration boards: messy bedrooms. Rather than snapping pics of their excruciatingly curated spaces, VSCO girls and Instagrammers alike are showing their "real" rooms with clothing scattered about, books stacked haphazardly, and beauty supplies piled up with power cords running amok. It's sort of like a more youthful take on maximalism (we think).
Just take these chaotic-seeming settings with a grain of salt — the photographers probably tweaked them a bit for the photo to make them look just messy enough_._ In any case, take that, Marie Kondo — 2020 is the year of fairy lights and messy floors.