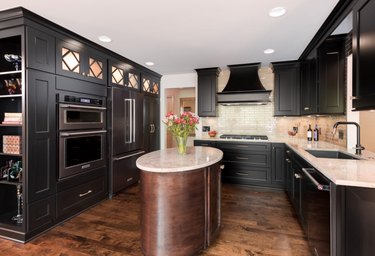 The time has come. You've officially decided to remodel your kitchen. And with that brings the dream come true of having an actual kitchen island. If the kitchen is the heart of the home, the island can be seen as the heart of the kitchen. But have you stopped to consider what kind of island?
Kitchen islands started being popular around the mid-twentieth century as prep areas and places for additional storage. But they have evolved into places to dine, entertain, and even serve as home offices. Some include sinks and cooktops, and some are just a nice open surface. Built-in or moveable, the island has been a favorite feature in kitchens everywhere.
One of the most important things to consider is the space you need for your island. We've seen rectangles and squares as the going standard, but sometimes the bulk of these shapes can inhibit the flow of your kitchen. Rounded shapes are an unexpectedly elegant and unique approach and may even offer you more flexibility when it comes to scale and placement.
Here are some unexpected oval-shaped kitchen island inspirations to consider:
Not So Traditional, Traditional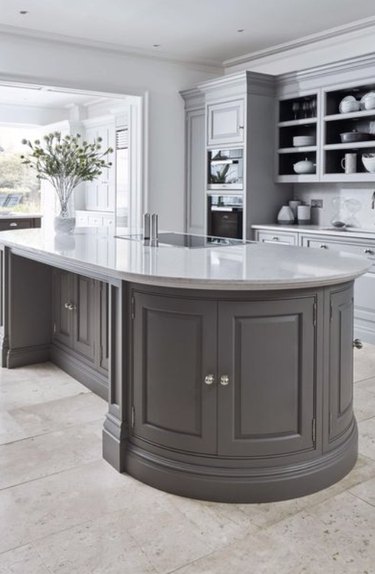 Here's an example of having ample space in an open plan kitchen, but leaning into an oval shape. The curves bring an air of elegance and whimsy to a traditional look from Tom Howley and still make it truly timeless.
Curvy Contemporary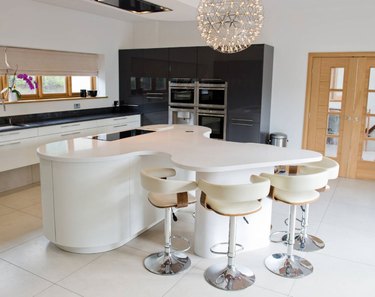 Another open kitchen, but this steps it up even further with a dining pod that shoots off of the island seamlessly. This look from Spaces Design offers up the perfect vantage point to converse during meal prep or sip a cocktail at sunset.
Oval Elegance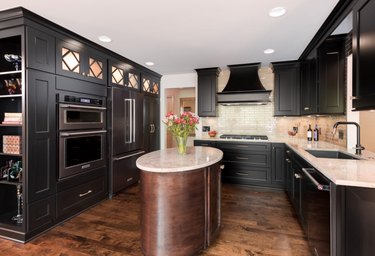 Here's the perfect and sophisticated example from Stalburg Design of how an oval island works in a smaller space, while offering addition countertop to prep and chat.
Step Right Up
Here's another solution when your space is limited: a truly functional island that is a half oval from Stephen Graver. There's ample storage, prep space, and the perfect place to gather to catch up on the day's news while the chef is at work.
Art Deco Delight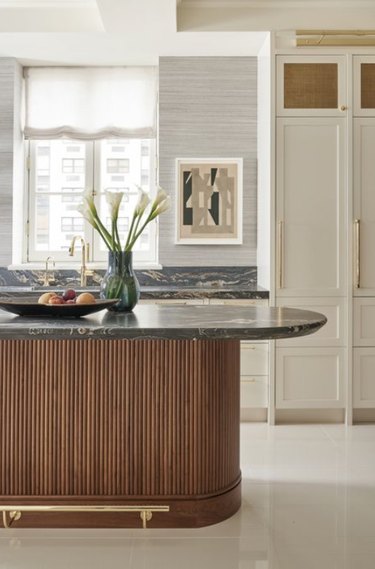 This luxurious look from BK Interiors offers additional countertop space for meal prep and more. But, let's be real, it's so stunning we might just want to stare at it all day long instead.
Cut it Out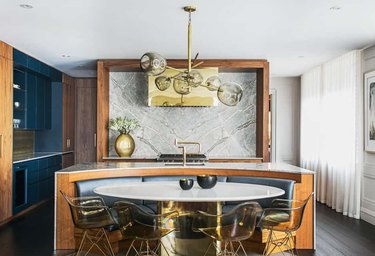 OK, we're bending the rules a little bit here. While not technically an oval, here's a smart solution to making the most of your space from Audax: create a kitchen island/dining booth combo. The oval curve cut out from the countertop allows for a built-in banquet seat that takes up less space than a separate island and dining set would, plus it turns dining-in from just alright to OMG amazing.