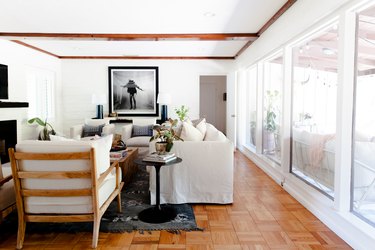 Although the real estate market can feel like a mystery you can never truly predict, we appreciate some insights wherever we can get them. Whether it's information on how much it really costs to buy a house, or what floor layouts are losing popularity, we figure you can never have too much data.
Zillow recently released its predictions for 2020 and one trend piqued our interest in particular. According to the company's research, the average single family home has been getting smaller and smaller since 2015.
Zillow clarifies that while it's technically "one-third bigger than 30 years ago," the single family home will most likely keep seeing this reduction in square footage. This, of course, applies to new homes being built — and Zillow includes a few theories for the downsizing.
First off, "millennial home buyers have expressed a preference for denser, more urban homes." In addition, many people in younger demographics are "struggling to afford large homes built in prior decades." Other concerns include eco-conscious choices, less maintenance, and "a shortage of buildable land."
Nothing too surprising considering this year's rampant popularity of tiny houses, especially the ones available on Amazon. If 2020's new houses will continue to be smaller, as predicted, then it's a good we've already been exploring ways to work with a small space. You can see Zillow's full list of predictions here.