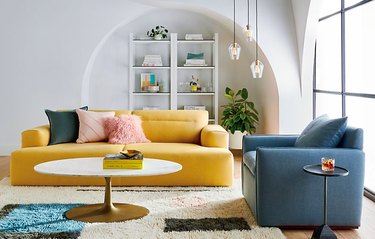 Chairish, the online vintage art, furniture, and home furnishings marketplace whose trend reports we've covered in the past, is back at it for 2020. The site takes into account the search and purchase history of their 2.5 million users to find out what's hot in the world of home decor and predicts the big trends for the upcoming year.
For 2020, Chairish is predicting that the martini table — the small, easily moveable table perfect for, well, martinis — is going to make a huge comeback. Anna Brockway, Chairish co-founder and president says the table is a great way to, "up your hostess game by ensuring each chair has an accompanying table for a guest to set their drink on."
We're highlight a few of our favorite examples across a variety of styles — which would you prefer for your cocktail party?
This sleek, modern table features both a rectangular top and bottom for a unique look.
If you're into a more rustic look, these drink tables are always a chic option.
This brass number is glitzy but not over-the-top.
This 30s-inspired table features a recessed antique mirror for a vintage feel. The gold-plated frame is slim and a perfect space-saving solution for your next party.
Black marble always looks classy and this cocktail table proves it.
A real throwback to the golden age of cocktail parties, this iron table is elegant and refined, much like the martini itself.
---
Laura is a New York City-based freelance writer who writes about travel, food, and design. Her work has appeared in Architectural Digest, Bon Appétit, GQ, Condé Nast Traveler, and more. She's a sucker for a good curbside furniture find.
View Work